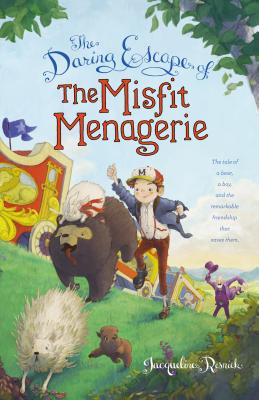 The Daring Escape of the Misfit Menagerie (Hardcover)
Razorbill, 9781595145888, 320pp.
Publication Date: December 6, 2012
Other Editions of This Title:
Paperback (9/12/2013)
* Individual store prices may vary.
Description
Smalls the sun bear and his friends are an unusual bunch. That's why they're known as the Misfit Menagerie. The four oddball animals live on Mr. Mumford's farm, where they play games and do tricks for neighborhood children. It's an idyllic existence--until a cruel circus owner named Claude Magnificence comes to town, and life as they know it ends. The Menagerie is snatched away to a traveling circus, where Claude and his buffoonish sidekicks force them to perform death-defying tricks.
At the circus, Smalls and his friends only have slop to eat. They live in filthy, cramped cages. And they're bullied by a rough band of trained animals called the Lifers. It's worse than awful--it's despicable But then young Bertie Magnificence comes along, and he and Smalls form the kind of friendship that inspires hope. They decide that something needs to change...and fast. With the help of an acrobat named Susan, Smalls and Bertie set in motion a heroic plan.
"Can a lonely boy and a misfit bear hoodwink cruel Claude and save an entire circus of captive animals?
About the Author
Jacqueline Resnick received her BA from Cornell University and her MFA in Writing for Children from the New School. She grew up in Wynnewood, Pennsylvania, and now lives in Brooklyn, New York, with her husband and their tiny dog, who moonlights as her writing companion. "The Daring Escape of the Misfit Menagerie" is her first novel. Find out more at: www.jacquelinewrites.com.
Praise For The Daring Escape of the Misfit Menagerie…
"Resnick's warmhearted debut . . . sets a lively pace and draws tender characterizations." --PW

"The distinctive and engaging animal characters will draw readers in and have them rooting for a succesful escape from the awful circus." --Booklist

"Appeal[s] to readers who enjoy their protagonists on the furry side." --School Library Journal

"A good old-fashioned story." --Kirkus Reviews

"A wild and wonderful circus ride." --Tor Seidler, author of The Wainscott Weasel, an ALA Notable Book; Mean Margaret, a finalist for the National Book award; and more

"I forgot about the real world when I got caught up in the charming world of the Most Magnificent Circus." --Dan Gutman, New York Times bestselling author of The Genius Files

"With a cruel guardian worthy of Rowling, Snicket, or Dahl, and animal friends as endearing as E.B. White's, Resnick's debut melted my heart." --Suzanne LaFleur, author of Eight Keys and Love, Aubrey
or
Not Currently Available for Direct Purchase