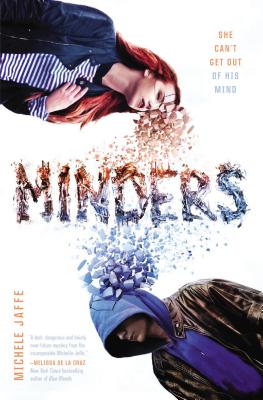 Minders (Hardcover)
Razorbill, 9781595146588, 395pp.
Publication Date: January 30, 2014
* Individual store prices may vary.
Description
"A dark, dangerous and twisty near-future mystery from the incomparable Michelle Jaffe. Don't miss this book "--Melissa de la Cruz, "New York Times" BestsellingAuthor of "Blue Bloods"
Q: If the boy you love commits a crime, would you turn him in?
Sadie Ames is a type-A teenager from the wealthy suburbs. She's been accepted to the prestigious Mind Corps Fellowship program, where she'll spend six weeks as an observer inside the head of Ford, a troubled boy with a passion for the crumbling architecture of the inner city. There's just one problem: Sadie's fallen in love with him.
Q: What if the crime is murder?
Ford Winters is haunted by the murder of his older brother, James. As Sadie falls deeper into his world, dazzled by the shimmering pinpricks of color that form images in his mind, she begins to think she knows him. Then Ford does something unthinkable.
Q: What if you saw it happen from inside his mind?
Back in her own body, Sadie is faced with the ultimate dilemma. With Ford's life in her hands, she must decide what is right and what is wrong. And how well she can really ever know someone, even someone she loves.
A high concept, cinematic read with a surprising twist, "MINDERS" asks the question: who is really watching who?
About the Author
Michele Jaffe is the author of the young adult novels "Ghost Flower," "Rosebush," "Bad Kitty," "Kitty Kitty," and the adult thrillers "Loverboy" and "Bad Girl." She has always dreamed of becoming either an FBI special agent or a glamorous showgirl.
Praise For Minders…
[A] highly original science-fiction…. thriller plot combines with contemporary class concerns for a thought-provoking and suspenseful read. --Kirkus

"Frighteningly - and deliciously - real.  I couldn't put it down. Michele Jaffe's best book yet." –Meg Cabot, author of the Abandon series and the Heather Wells mystery series


"Jaffe's unflinching, twisting narrative takes us deep into the human psyche, where vengeance and betrayal, love and loss synthesize into a tender and compelling picture of what it means to be human." –Jessica Khoury author of Origin


"What if you fell in love with the boy you were spying on...while trapped inside his mind? A riveting page-turner that kept me guessing until the very end." --Amy Plum, International Bestselling Author


The combination of romance, sci-fi, and crime drama makes for a splendidly well-rounded and engrossing story with broad appeal. --BCCB

The enticing characters and high-tech suspense will appeal to readers who enjoy science fiction, mystery, and romance. --SLJ

"Satisfyingly twisty and disturbing...readers will find much to discuss in the book's take on inequality, surveillance, and the black-and-white morality espoused by Mind Corps." --Horn Book Review
or
Not Currently Available for Direct Purchase