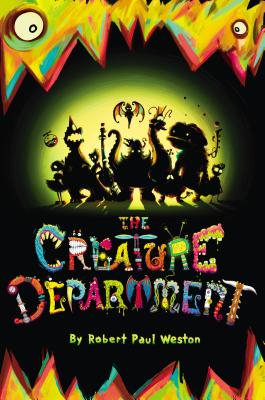 The Creature Department (Hardcover)
Razorbill, 9781595146854, 327pp.
Publication Date: November 5, 2013
Other Editions of This Title:
Paperback (10/9/2014)
* Individual store prices may vary.
Description
Stunning a bit like if you took "Charlie and the Chocolate Factory" and "Monsters Inc." and shoved them in a TARDIS. --Buzzfeed
It's a tentacled, inventive, gooey, world in there. . . .
Elliot Von Doppler and his friend Leslie think nothing ever happens in Bickleburgh, except inside the gleaming headquarters of DENKi-3000 the world's eighth-largest electronics factory.
Beneath the glass towers and glittering skywalks, there's a rambling old mansion from which all the company's amazing inventions spring forth.And no one except Uncle Archie knows what's behind the second-to-last door at the end of the hall.
Until Elliot and Leslie are invited to take a glimpse inside.
They find stooped, troll-like creatures with jutting jaws and broken teeth. Tiny winged things that sparkle as they fly. And huge, hulking, hairy nonhumans (with horns). It is unlike anything they ve ever seen.
But when Chuck Brickweather threatens to shut down the DENKi-3000 factory if a new product isn t presented soon, the creatures know they are in danger. And when Uncle Archie vanishes, it's up to Elliot, Leslie, and every one of the unusual, er, employees to create an invention so astonishing it will save the Creature Department.
About the Author
Robert Paul Weston lives inLondon, England, in a crumbling old building, hidden behind shiny glass towers. He isn't sure if this is where the idea for DENKi-3000 Headquarters came from, but it's certainly possible. In 2008, he published his first novel-in-verse, "Zorgamazoo," recipient of the California Young Reader s Medal, the Silver Birch Award, the Children s Choice Award, and an E.B. White Read Aloud Honor. His second novel was the hardboiled fairy tale, "DustCity," which was nominated for the Edgar Allan Poe Award for Best Young Adult Mystery. In February 2013, he published"Prince Puggly of Spud and the Kingdom of Spiff." Although he writes all of his books with a mechanical pencil, it's not electric and doesn't come with a telescopic lens. To learn even more about him, go to: www.robertpaulweston.comor follow him on Twitter @RPWeston.

Framestoreis a visual effects studio based in London, New York, Los Angeles, and most recently Montreal. Their work can be seen in all eight of the Harry Potter films, "Where the Wild Things," "War Horse," and "The Golden Compass," for which they won the Oscar for Best Visual Effects. In New York, they recently worked on Ben Stiller s new version of "Walter Mitty." In London, they worked on "Paddington Bear"; "Gravity," starring George Clooney and Sandra Bullock; the samurai epic "47 Ronin," starring Keanu Reeves; and "Jupiter Ascending" by The Wachowskis. "Iron Man 3" and "Robocop" were produced in Montreal. For more information, go to www.framestore.com"
Praise For The Creature Department…
"A literal Creature feature, with plenty of cinematic and digital spinoff potential." --Kirkus


"The Creature Department is sure to appeal to those middle graders who like a lot of silliness, a bit of rickum rockery, and a giggle of grossness..." -- NY Journal of Books

"The language is fun, the mood slightly macabre, and the imagination explosive." --This is Infamous



"Filled with wonder and populated by strange beings. In other words, it's pretty frickin' great." —Geeksmash



Underneath the eccentric creatures... eerie-yet-fun hidden laboratories, and whirring gizmos and gadgets, the appeal of The Creature Department lies within its more human values: friendship, being true to one's dreams, standing up for what you think is right, and never giving up. --GeekMom

"The creatures are a giggle-inducing example of an imagination run wild..." --Associated Press
or
Not Currently Available for Direct Purchase