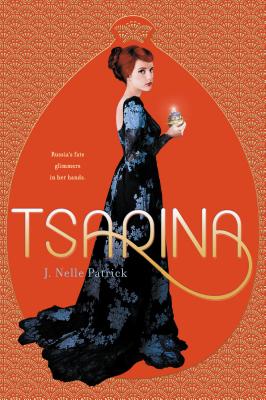 Tsarina
Paperback

* Individual store prices may vary.
Other Editions of This Title:
Hardcover (2/27/2014)
Description
""Romance, adventure, magic and history blend seamlessly into a story that is... historically sensitive and gloriously thrilling." --Kirkus, starred review"
Natalya knows a secret.
A magical Faberge egg glows within the walls of Russia's Winter Palace.
It holds a power rooted in the land and stolen from the mystics.
A power that promises a life of love for her and Alexei Romanov.
Power, that, in the right hands, can save her way of life.
But it's in the wrong hands.
An epic romance with glittering magical elements, "TSARINA" is swirling with beautiful prose, stark Russian contrasts, and lavish visuals perfect for fans of Libba Bray's "A Great and Terrible Beauty."
-------
Q&A between J. Nelle Patrick and Natalie Standiford, author of "The Boy on the Bridge"
Q--Standiford: Where did your interest in Imperial Russia come from? Can you trace it back to a particular moment or source?
A--Patrick: This is super cheesy, but my interest in Imperial Russia actually goes back to these plates my parents had hanging on the wall when I was growing up. There were a set of six, and they were the fancy sort of plates that weren't actually meant to be used for food. I'm sure they were bought at a nondescript department store or the like. Each plate had a picture of one of the Faberge eggs on the front and then, when you turned it over, there was a picture of the "surprise" that each egg contained-- the jade rabbit, the little elephant, the portraits of the royal family, things like that. It wasn't until I was in high school that I recognized them as a very symbolic part of Imperial Russia and, in some ways, its downfall.
Q--Standiford: How did you learn so much about Russian history? What did you do to research Tsarina?
A--Patrick: I knew the basics before I began TSARINA, but felt I needed a lot more than basics to pull the book off. I basically did a crash course in all things Russia. I listened to lectures, I read books and firsthand accounts, went to museum exhibits-- everything One incredibly helpful resource was eBay, oddly enough-- it's full of antique store catalogs, and there's no better way to get a feel for what people were wearing or buying than actually seeing what was available in stores during that time period.
Q--Standiford: Did you have to change any facts about Russian history to fit your story? Was it a challenge to turn real historical figures into fictional characters?
A--Patrick: I did end up changing quite a few historical facts-- primarily the timeline of the story. I combined the February and October revolutions into one revolution that takes place toward the end of the fall. I also aged Alexei Romanov up-- sort of. Alexei was only 13 when he was executed alongside his family; for him to be a viable romantic interest, I needed him to seem older. I never say in the book that he's older, and think it's very likely that Alexei was much more mature than your average 13 year old given his upbringing, but he certainly reads more like someone that's around 17. I kept a very detailed list of all the historical deviances I made, and mention them in an author's note--I wanted to make sure readers knew that I'd done my research and recognized the deviations, but also that they knew there was a whole big world of Imperial Russia out there for them to explore, and my book is only about a tiny corner of it.
The biggest challenge as far as turning historical figures into fictional characters was making sure I remained respectful. For example-- it would have been very easy for me to just directly say that Alexei was 17 in TSARINA, but I never quite went that far, since it seemed cruel to officially turn a boy who never made it past 13 into a 17 year old for the sake of my story. Similarly, I tried to make sure I fairly represented the good and bad of the Reds, the Whites, the Romanovs-- even Rasputin.
Q--Standiford: Your previous books are based on fairy tales, and this one on history. Were there differences in the experience of writing them because of that? (In a way, the history of Tsarist Russia feels like a fairy tale, so the transition makes sense to me, but I'm curious how it felt to you.)
A--Patrick: You know, you're right-- Imperial Russia "was" very much like a fairy tale, so in that sense it really was quite easy. What complicated things was the fact that in fairytales, the villain is usually an evil-to-the-core monster. The wolf, the jealous witch, the spoiled king-- they have no redemptive qualities, and they're motivated by selfishness. The Russian Revolution, however, didn't really have such a clear villain; everyone involved seemed to truly think they were doing what was best for the country. I often got really angry while writing this book, honestly, because I felt like there were so many instances where things could have been sorted out if each side stopped seeing the other as the enemy, and started working on a compromise.
Q--Standiford: I worked on my book, set like yours during a Russian winter, at the beach in July. There were moments when it just felt wrong. You live in Atlanta. Did you have similar trouble with climate schizophrenia?
A--Patrick: Fortunately, I was writing this book in December, so at least it was cold-- though, of course, Russian summers are sometimes colder than Atlanta winters I actually had a degree of culture schizophrenia though. I'd take a break and grab a peanut butter sandwich, but feel like I should have been eating borscht.
Q--Standiford: How badly did you want to wear those imperial ball gowns?
A--Patrick: Man, weren't they amazing? What I found so incredibly beautiful about them is that they so often called back to traditional Russia. No offense to western European countries, but early 20th century style there seems to blend seamlessly from country to country. Russia was certainly heavily inspired by French fashion (especially in day to day wear), but they kept the long sleeves, the jewel tone palettes, the embroidery and the fur that just screamed RUSSIA in the very best way.
Razorbill, 9781595146946
Publication Date: February 24, 2015
About the Author
J. Nelle Patrick lives in Atlanta, Georgia, with a slightly cross-eyed cat and a lot of secondhand furniture. She graduated from the University of Georgia with a degree in English and a minor in philosophy. She auditioned for the circus once but didn't make it. She is also the author of a series of retold fairytales.
or
Not Currently Available for Direct Purchase