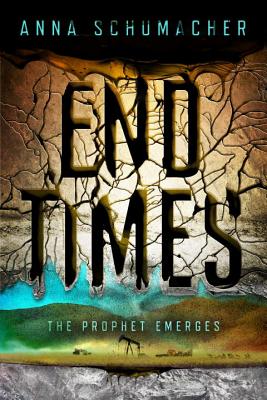 End Times
Hardcover

* Individual store prices may vary.
Other Editions of This Title:
Paperback (5/5/2015)
Description
Carbon County, Wyoming is like a current running through Daphne's heart.
When life gets too tough to bear in Detroit, Daphne flees to her Uncle Floyd's home, where she believes she ll find solace in the silent hills of her childhood summers. But Daphne's Greyhound bus pulls over in downtown Carbon County and it's not silence that welcomes her. It's the sound of trumpets.
Daphne's desire to start again in simple country comfort is instantly dashed as the townsfolk declare that the End Times are here. And incredible occurrences soon support their belief. Daphne does all she can to keep her head down and ignore the signs. She works a job at the local oil rig, helps around the house, hangs out with her pregnant cousin Janie and gets to know Owen, a mysterious motocross racer and fellow roustabout at the rig. But soon a startling discovery shatters her resolve and calls into question all her doubts and fears.
Daphne landed in Carbon County for a reason. She only has to read the signs and believe.
Praise For End Times…
Praise for End Times

"In her debut, Schumacher rounds out her third-person narrative with a varied cast of believable secondary characters and sets the stage for a compelling sequel. In an even greater feat, the author provides a fascinating reimagining of the rapture accessible to both religious and secular readers alike. This page-turner will leave readers eager for more." -Kirkus

"End Times will take you on an electrifying journey as one downtrodden girl from Detroit fights for her family, their hometown of Carbon County, Wyoming and the good of the world." –Pittacus Lore, #1 New York Times Bestselling author of the Lorien Legacies series

"Explosive, electrifying, and charged with emotion. This skillfully woven story of the unhinged, mythical town of Carbon County, Wyoming, will take you to the edge and leave you dangling, desperate for the next installment. I swear my heart is still pounding." —Nova Ren Suma, author of Imaginary Girls and 17 & Gone

"A vivid and captivating read rife with religious fervor, family entanglements, profiteering and a dash of sparkle hula-hoops. Chronicling one girl's quest to find her place in the world, and set against the backdrop of a pious small town that's just struck oil, Anna Schumacher's Rapturous debut is sure to make every reader a believer."--Leah Konen, author of The After Girls
 
"I loved this book. Daphne Peyton arrives in a flourish of mysterious trumpets and Anna Schumacher's gorgeous, rich prose never lets up. End Times is fearless and gripping, surprising and heartfelt. Schumacher takes us to the beginning of the end, and  leaves us wanting more." –Danielle Paige, author of Dorothy Must Die
 
"Anna Schumacher's astonishing debut grabs you on the first page and doesn't let go as it drags you on a thrilling and unsettling ride headed straight for the Apocalypse. I just hope the End doesn't come before the sequel's out." –Bennett Madison, author of The Blonde of the Joke and September Girls
 
"A gripping and compulsive read. A fresh new take on the apocalypse that marries sharp plotting with full-bodied characters. I loved this book!" –Micol Ostow, author of Family

"End Times is a captivating read that will leave you questioning good versus evil—and craving the next book in the series." —Shani Petroff, author of the Bedeviled series
 
Razorbill, 9781595147486, 302pp.
Publication Date: May 20, 2014
About the Author
Anna Schumacher received an MFA in fiction writing from The New School. Born and raised in the tiny town of Guilford, VT (no traffic lights, no post office, one store), she now lives in Brooklyn, NY with her husband and two cats. "End Times" is her first book.
or
Not Currently Available for Direct Purchase