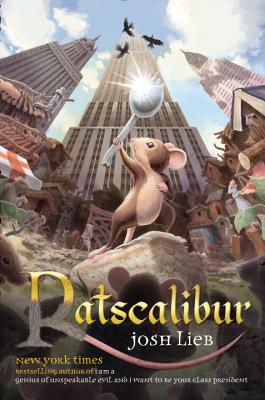 Ratscalibur (Paperback)
Razorbill, 9781595148292, 192pp.
Publication Date: May 10, 2016
Other Editions of This Title:
Digital Audiobook (5/4/2015)
Prebound (5/10/2016)
Hardcover (5/5/2015)
Pre-Recorded Audio Player (5/5/2015)
CD-Audio (5/5/2015)
* Individual store prices may vary.
Description
From the New York Times bestselling author of I Am A Genius of Unspeakable Evil and I Want to Be Your Class President

"A witty mash-up of favorite fantasy motifs."—New York Times Book Review

"Ratscalibur is funny, it's scary, and it's sweet, like life. But it has talking rats and magic, so it's better than life."—Jimmy Fallon

"Full of clever dialogue and hilarious puns...Don't be surprised if this novel achieves best-seller status." —Booklist

"The only way I could've liked this more is if I were eleven."—Ira Glass

"A charming take on an old favorite."—Publishers Weekly
 

When Joey is bitten by an elderly rat, he goes from aspiring seventh-grader to three-inch tall rodent.

At first, Joey is amazed by his new rat self. The city streets call to him at night. Smells that would have repelled him before are suddenly tantalizing. (A chicken bone? Yes! A squashed cockroach? Like perfume!) And wow, the freedom! But when a bout of hunger leads Joey to pull the spork from the scone, he finds himself at the center of a longtime rat prophecy.

Joey has unwittingly unlocked the sword Ratscalibur; and now, it is up to him to protect his new rat friends from the evil crows who seek to destroy their peaceful kingdom. But what does an eleven-year-old know about actual swordplay? And what happens when Joey no longer wants to be a rat?
About the Author
Josh Lieb is the producer and showrunner of The Tonight Show Starring Jimmy Fallon. He won seven Emmy Awards as writer and producer of The Daily Show with Jon Stewart and has written and produced multiple other television shows, including The Simpsons and NewsRadio. His novel I Am a Genius of Unspeakable Evil and I Want to Be Your Class President was a New York Times best seller. He's married with two children and lots of animals. Follow him on Twitter @JoshLieb9.
Praise For Ratscalibur…
"A witty mash-up of favorite fantasy motifs…Lieb's obvious delight in laying out the vermin-world analogues of sword-and-sorcery staples is infectious. Readers will smile to see Popsicle-stick lances, peanut-shell helmets and, of course, the title sword, which is actually a spork—a spork that must be pulled from a scone. (Pun lovers will find no shortage of reasons to enjoy this book.)"—New York Times Book Review

"Lieb gleefully spoofs Arthurian legend [and] Lintern's elegantly drafted pen-and-ink drawings bring additional humor and suspense to the furry underbelly of the cityscape…a charming take on an old favorite."—Publishers Weekly

"Readers will root for Joey and his friends to prevail in this fast-paced and entertaining story about a magical world humans can't see. Short chapters and plenty of action keep the story moving, while Joey's worry and self-doubt make him a well-rounded character…A great choice for those who prefer their unlikely heroes in animal form."—School Library Journal

"Full of clever dialogue and hilarious puns, this is a delightful homage to Brian Jacques' Redwall series, Lord of the Rings, and Arthurian legend…Expect more to come from Joey and Ravalon. Perfect for readers who enjoy animal fantasy brushed with humor and charm. Having worked with many of television's comedy greats, Lieb has a strong handle on humor and parody. Don't be surprised if this novel achieves best-seller status like his first."—Booklist

"[Josh Lieb] is back with another deliciously clever book…It's a tale full of adventurous knights, suspenseful swordfights and powerful magic (well, the rats have 'ragic)."—EW.com

"Those of you that are re-reading Redwall start to finish for the six thousandth time…this ratty reimagining of the King Arthur tale…promises to be a hoot."—Nerdist.com

"I'm glad Josh Lieb ignored my advice and wrote another book. I may have misjudged him. A man who understands rats can't be all bad." —Daniel Pinkwater
 
"With swordplay and word play, Josh Lieb's rats-around-the-Roundtable saga is fun on every page. This is fabulous fantasy with an actual bite and hardly any kissing."—Richard Peck, New York Times bestselling author of Secrets at Sea and The Mouse with the Question Mark Tail
 
Praise for Josh Lieb's I Am A Genius of Unspeakable Evil and I Want to Be Your Class President:

"If War and Peace had a baby with the The Breakfast Club and then left that baby to be raised by wolves, this book would be the result. I loved it." —Jon Stewart

"Josh Lieb is one of the great brave journeys in American literature. Or maybe he just signed my name to a blurb he wrote. Either way, you have to admit he's brave. And the book is hilarious." —Judd Apatow

"Beware, kids: Once your parents pick it up, they won't be able to put it down. (Guilty as charged.)" —New York Post

"Pitch perfect . . . Every kid who's ever felt put upon, misunderstood, and, let's admit it, infinitely superior to his or her peers will laugh out loud as they enter Oliver's hilarious secret world." —BCCB, starred review

"Lieb's creative and twisted first novel gets a positive vote." —Kirkus Reviews

"Walter Mitty for teenagers, especially those who do not fit in. They will become huge fans of this book." —VOYA

"This is a book that kids will be talking about." —School Library Journal