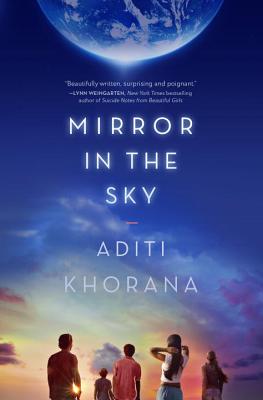 Mirror in the Sky
Hardcover

* Individual store prices may vary.
Other Editions of This Title:
Paperback (5/9/2017)
Description
Another Earth meets Perks of Being a Wallflower in this thoughtful, mesemerizing debut and subject of a TedX talk about the discovery of a mirror planet to Earth and how it dramatically changes the course of one Indian-American girl's junior year.

"[O]ne of the most powerful reads of the year. A novel about family, race, and discovering who you are, Mirror in the Sky promises a unique read that blends YA contemporary struggles with imaginative science fiction."
—Paste Magazine

For Tara Krishnan, navigating Brierly, the academically rigorous prep school she attends on scholarship, feels overwhelming and impossible. Her junior year begins in the wake of a startling discovery: A message from an alternate Earth, light years away, is intercepted by NASA. This means that on another planet, there is another version of Tara, a Tara who could be living better, burning brighter, because of tiny differences in her choices.
 
The world lights up with the knowledge of Terra Nova, the mirror planet, and Tara's life on Earth begins to change. At first, small shifts happen, like attention from Nick Osterman, the most popular guy at Brierly, and her mother playing hooky from work to watch the news all day. But eventually those small shifts swell, the discovery of Terra Nova like a black hole, bending all the light around it. 

As a new era of scientific history dawns and Tara's life at Brierly continues its orbit, only one thing is clear: Nothing on Earth--or for Tara--will ever be the same again.
Praise For Mirror in the Sky…
"[A] moving, thought-provoking novel that delicately balances science, philosophy, and emotion…make sure it's on your summer reading list."  
—Bustle

"[A] quiet, thoughtful debut novel. [...] Beautiful language and mature, realistic adolescent situations flourish as Tara considers quantum physics and philosophical theories and whether a different or even better version of herself exists on the parallel planet. […] Like a space explorer, Tara is thrust into the uncharted territory of life and must decide how she will navigate this new part of herself."
—Kirkus Reviews (STARRED review)

"The true strength of the book is in Tara's observations of the little societies she must navigate, and the very real pain that comes from hiding your true self from the people around you."
—NPR

"Khorana perfectly captures the excruciating pain of a high-school society divided by race and socioeconomic status [...] Tara herself is a flawed, multidimensional character, and her empathy towards fellow students and her own mother's desertion is beautifully drawn."
—Booklist 

"[A]n incredibly deep book, full of beautiful writing and intricate layers. Tara's perspective is laced with raw emotion, driving home the fact that while someone's life may seem perfect, everyone has secrets and problems…Mirror in the Sky is a star all in its own." 
—The Missourian

"[A]n absolute '5-star' read."
—Suspense Magazine

"[An] alternate reality science-fiction that is sure to fill fans…a look at identity, divides, and status, this is a book that will make you think." 
—The Parkersberg News & Sentinel

"This thoughtful science fiction novel offers an emotionally and psychologically driven alternative to the recent spate of action-packed, alien-ridden sci-fi adventures. Khorana uses her sci-fi premise to explore the angst and excitement of possibilities, crafting a story with a deeply personal, potently adolescent vibe. Realism fans will welcome the academically gifted but socially awkward Tara and her more ordinary woes, while science fiction readers will appreciate the novel's use of interplanetary drama to raise philosophical questions. A strong readalike for Wallach's We All Looked Up, this novel is the perfect fit for readers prone to introspection and those looking for more than just the next fast-paced page-turner."
—Bulletin of the Center for Childrens Books 

"The writing style is eloquent, and the characters are well developed, particularly Tara, who is struggling as the only Indian girl in an all-white school. Will appeal to readers who enjoy realistic fiction with a splash of sci-fi."
—School Library Journal

"I couldn't get enough of [Mirror in the Sky's] thought-provoking insights."
—Forever Young Adult

"In her thought-provoking debut, Aditi Khorana brilliantly blends the speculative with the contemporary. What results is a story full of layers, and rich with characters so engaging and complex I continued to think about them long after I turned the final page."
—Stephanie Garber, New York Times bestselling author of Caraval 

"Elegantly crafted and emotionally rich, Mirror in the Sky is a dazzling gift of a novel."
—Nina LaCour, author of Hold Still,  The Disenchantments, Everything Leads to You, and We Are Okay
 
"From its first word, this book captivated me. Khorana weaves a story with nail-biting tension, mind-bending mystery, and stunning complexity. Rarely have I found myself so attached to such deeply flawed characters or so in love with those I once hated. Chilling, powerful, and real, Mirror in the Sky will have you thinking about all the tiny decisions that have shaped you and thrumming with the question, 'What if?'"   
—Emily Henry, author of The Love That Split the World
 
"Beautifully written, surprising and poignant, Mirror in the Sky is a book you will not soon forget. If there is an alternate Earth, another you has probably already read this and loved it."
—Lynn Weingarten, New York Times bestselling author of Suicide Notes from Beautiful Girls
Razorbill, 9781595148568, 352pp.
Publication Date: June 21, 2016
About the Author
Aditi Khorana spent part of her childhood in India, Denmark, and New England. She has a BA in international relations from Brown University and an MA in global media and communications from the Annenberg School for Communication. She has worked as a journalist at ABC News, CNN, and PBS, and most recently as a marketing executive consulting for various Hollywood studios including Fox, Paramount, and Sony. Mirror in the Sky is her first novel. She lives in Los Angeles and spends her free time reading, hiking, and exploring LA's eclectic and wonderful architecture. For more information, visit aditikhorana.com.
or
Not Currently Available for Direct Purchase