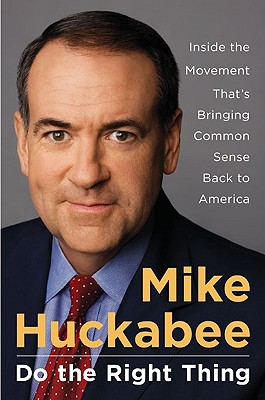 Do the Right Thing (Hardcover)
Inside the Movement That's Bringing Common Sense Back to America
Sentinel HC, 9781595230546, 240pp.
Publication Date: November 18, 2008
Other Editions of This Title:
Digital Audiobook (11/17/2008)
Paperback (11/3/2009)
* Individual store prices may vary.
Description
When Governor Mike Huckabee entered the Republican presidential race, he was the ultimate dark horse, with almost no money, no consultants, and no name recognition beyond Arkansas. The so-called experts were highly amused by this former small state governor from blue-collar roots who also played bass in a rock band. He wouldn't have a prayer against the well-connected and financially wired pros like Rudy Giuliani, Mitt Romney, and Fred Thompson.

But Huckabee had one big advantage: a common sense message that connected with millions of people, and not just his fellow evangelical Christians. He spoke about family values, fair taxes, and helping hard-working, middle-class Americans in a tough economy. And to the dismay of some Republicans, he talked about fighting Wall Street greed and K Street corruption.

Huckabee shocked the country by winning the all-important Iowa caucuses and seven other states, while spending far less than the other major candidates. He created an army of passionate volunteers and small donors, transforming his campaign into a true movement that will endure long after Election Day.

Do The Right Thing is Huckabee's amazing story, in his own words--from making commercials with Chuck Norris to meeting a Michigan woman who insisted on donating her wedding ring. But this is more than just a campaign memoir. It's a vision for a smarter, fairer type of politics--"vertical politics"--that focuses on common sense solutions for education, health care, the economy, and many other issues. It's not about right versus left; it's about taking America up rather than down.
Huckabee also shows how the Republican Party can heal its divisions--between social and fiscal conservatives, the wealthy and the middle class, the religious and the secular--and become a true majority party again.
About the Author
Mike Huckabee won eight states and more than four million votes during the 2008 Republican presidential primaries. He served as the governor of Arkansas from 1996 to 2007 and as lieutenant governor from 1993 to 1996. Before politics, he worked in broadcasting and advertising and spent twelve years as a pastor and denominational leader. He lives with his wife, Janet, in North Little Rock, Arkansas. They have three grown children, three dogs, and at least that many friends!
or
Not Currently Available for Direct Purchase