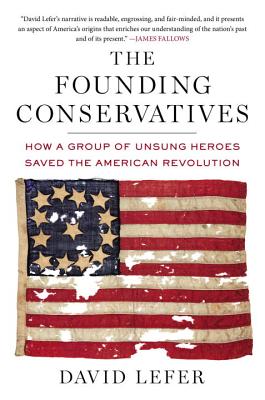 The Founding Conservatives: How a Group of Unsung Heroes Saved the American Revolution (Hardcover)
How a Group of Unsung Heroes Saved the American Revolution
Sentinel, 9781595230690, 406pp.
Publication Date: June 13, 2013
* Individual store prices may vary.
or
Not Currently Available for Direct Purchase
Description
"It is not only the cause, but our manner of conducting it, that will establish character."
--John Dickinson, 1773
A nation at war and widespread mistrust of the mil-itary. A financial crash and an endless economic crisis. A Congress so divided it barely functioned. Bitter partisan disputes over everything from taxa-tion and the distribution of wealth to the role of banks and corporations in society. Welcome to the world of the Founding Fathers.
According to most narratives of the American Revolution, the founders were united in their quest for independence and steadfast in their efforts to create a stable, effective government. But the birth of our republic was far more complicated than many realize. The Revolution was nearly derailed by extremists who wanted to do too much, too quickly and who refused to rest until they had remade American society. If not for a small circle of conservatives who kept radicalism in check and promoted capitalism, a strong military, and the preservation of tradition, our country would be vastly different today.
In the first book to chronicle the critical role these men played in securing our freedom, David Lefer provides an insightful and gripping account of the birth of modern American conservatism and its impact on the earliest days of our nation.
Among these founding conservatives were men like John Dickinson, who joined George Washington's troops in a battle against the British on July 4, 1776, and that same week drafted the Articles of Confederation; James Wilson, a staunch free-market capitalist who defended his home against a mob of radicals demanding price controls and in the process averted a bloody American equivalent to Bastille Day; Silas Deane, who mixed patriotism with profit seeking while petitioning France to aid America; and Robert Morris, who financed the American Revolution and founded the first bank and the first modern multinational corporation in the United States.
Drawing on years of archival research, Lefer shows how these and other determined founders cham-pioned American freedom while staying faithful to their ideals. In the process, they not only helped defeat the British but also laid the groundwork for American capitalism to thrive.
"The Founding Conservatives "is an intellectual adven-ture story, full of gunfights and big ideas. It is also an extraordinary reminder of the punishing battles our predecessors fought to create and maintain the free and prosperous nation we know today.
About the Author
David Lefer is a professor at New York University's Polytechnic Institute, where he directs the Innovation and Technology Forum. Previously a journalist, he worked for the "New York Daily News," for the "China News "in Taiwan, and as a coproducer of the PBS talk show "The Digital Age." He collabo-rated with Sir Harold Evans in the research and writing of "They Made America," a bestselling history of American innovation.
Praise For The Founding Conservatives: How a Group of Unsung Heroes Saved the American Revolution…
"David Lefer's narrative is readable, engrossing, and fair-minded, and it presents an aspect of America's origins that enriches our understanding of the nation's past and of its present."
—JAMES FALLOWS
 
"David Lefer has done a wonderful service by focusing attention on the conservatives among our founders, such as John Dickinson. In doing so, he shows that American conservatism has deep historical roots and that some of today's ideological disputes were being waged in the early days of our republic. The lessons he draws are relevant not just to conservatives but to all Americans."
—WALTER ISAACSON, author of Steve Jobs and Benjamin Franklin
 
"David Lefer's The Founding Conservatives is a tirelessly researched and superbly writ­ten account of how America's first conservatives endowed our revolution with ballast and vision, often in surprising ways that resonate to this day. A timely reminder that extremism in the defense of liberty is no virtue, moderation in the pursuit of justice no vice."
—KEVIN BAKER, author of America: The Story of Us
 
"David Lefer has done a civic service in unearthing a largely forgotten group of revolutionary patriots who not only played key roles in achieving American inde­pendence but, in advance of Burke and the French Revolution, laid the groundwork for a distinctively New World version of conservatism."
—FRED SIEGEL, author of The Prince of the City; senior fellow, Manhattan Institute
 
"This lively, erudite book frees the founders from currently popular anachronistic categorizations and in the process provides a fresh new perspective on American conservatism. That there is something in this book to annoy just about everyone is its great and inestimable virtue."
—SUSAN JACOBY, author of Freethinkers
 
"As a historian, David Lefer is a terrific storyteller. The Founding Conservatives takes us on a fun and unique ride through the birth of the United States while building a case for the real DNA of American conservatism."
—KEVIN MANEY, author of The Maverick and His Machine

"A compelling argument for a new appreciation of America's founding conservatives. Lefer shows how these men, far from obstructing change or opposing the Revolution, sought to channel and direct our nation's develop­ment so it could succeed for centuries to come. This book reminds us that conservatives have never been the 'party of no' but rather the voice of reason and an idealism tempered by the practical."
—LARRY SCHWEIKART, coauthor of A Patriot's History of the Modern World, vols. 1 and 2
Advertisement