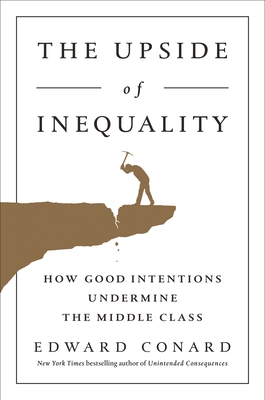 The Upside of Inequality
How Good Intentions Undermine the Middle Class
Hardcover

* Individual store prices may vary.
Description
The scourge of America's economy isn't the success of the 1 percent—quite the opposite. The real problem is the government's well-meaning but misguided attempt to reduce the payoffs for success.
 
Four years ago, Edward Conard wrote a controversial bestseller, Unintended Consequences, which set the record straight on the financial crisis of 2008 and explained why U.S. growth was accelerating relative to other high-wage economies. He warned that loose monetary policy would produce neither growth nor inflation, that expansionary fiscal policy would have no lasting benefit on growth in the aftermath of the crisis, and that ill-advised attempts to rein in banking based on misplaced blame would slow an already weak recovery. Unfortunately, he was right.
 
Now he's back with another provocative argument: that our current obsession with income inequality is misguided and will only slow growth further.
 
Using fact-based logic, Conard tracks the implications of an economy now constrained by both its capacity for risk-taking and by a shortage of properly trained talent—rather than by labor or capital, as was the case historically. He uses this fresh perspective to challenge the conclusions of liberal economists like Larry Summers and Joseph Stiglitz and the myths of "crony capitalism" more broadly.
 
Instead, he argues that the growing wealth of most successful Americans is not to blame for the stagnating incomes of the middle and working classes. If anything, the success of the 1 percent has put upward pressure on employment and wages.
 
Conard argues that high payoffs for success motivate talent to get the training and take the risks that gradually loosen the constraints to growth. Well-meaning attempts to decrease inequality through redistribution dull these incentives, gradually hurting not just the 1 percent but everyone else as well.
 
Conard outlines a plan for growing middle- and working-class wages in an economy with a near infinite supply of labor that is shifting from capital-intensive manufacturing to knowledge-intensive, innovation-driven fields. He urges us to stop blaming the success of the 1 percent for slow wage growth and embrace the upside of inequality: faster growth and greater prosperity for everyone.
Praise For The Upside of Inequality: How Good Intentions Undermine the Middle Class…
"Ed Conard challenges misconceptions that distort our economic debates. He debunks the myth that inequality is a conspiracy perpetuated by robber barons and sheds light on the complex economic phenomena that shape America's success. Readers of all political persuasions will benefit from this highly-informative book."

—Arthur Brooks, president of the American Enterprise Institute

"This provocative new book by Ed Conard is a must-read for serious students of economic policy. Conard's core thesis—that advancement in living standards is constrained by risk capital and properly trained talent—suggests an inequality borne of returns from innovation. His solutions are sensible and all the more compelling in the context of this paean to risk-taking."

—Glenn Hubbard, dean of Columbia Business School and former chairman of the Council of Economic Advisers
 
"Conard makes a fresh argument for the productive value of inequality, which is that scarce entrepreneurial effort and risk-tolerant capital are the resources that are both most central to economic growth and most sensitive to the potential distortions imposed by taxation and regulation. Whether or not one accepts this argument, it's an argument well worth having."

—David Autor, professor of economics, Massachusetts Institute of Technology
 
"I profoundly disagree with much of what is in Conard's book but respect the clarity with which he makes his case.  Agree or disagree, this book can sharpen your thinking on critical economic issues, making it a very valuable contribution."

—Larry Summers, former Secretary of the Treasury and Director of the National Economic Council, President Emeritus, Harvard University
 
"Ed Conard puts forward a comprehensive explanation of the modern economy. Critics may dismiss it as a defense of the 1 percent, but it's much, much more than that. I rarely see economic analysis as insightful as this."

—Julian Robertson, founder of Tiger Management
 
"Page after page, Ed Conard challenges conventional wisdom about the causes of growing inequality, the constraints to growth, and the feasibility of commonly proposed solutions to advance a thought-provoking blueprint for growing middle- and working-class incomes in a world with an abundance of workers. Whether you agree or not, this is serious thinking for serious thinkers."

—Mitt Romney, former Governor of Massachusetts
Portfolio, 9781595231239, 320pp.
Publication Date: September 13, 2016
About the Author
Ed Conard is the author of two top ten New York Times bestselling books: The Upside of Inequality: How Good Intentions Undermine the Middle Class and Unintended Consequences: Why Everything You've Been Told About the Economy Is Wrong. He is a visiting scholar at the American Enterprise Institute. Previously, he was a founding partner at Bain Capital, where he worked closely with former presidential candidate Mitt Romney.
or
Not Currently Available for Direct Purchase