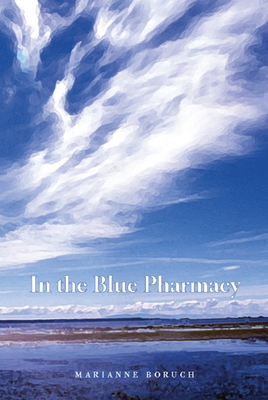 In the Blue Pharmacy
Essays on Poetry and Other Transformations
Paperback

* Individual store prices may vary.
Description
Celebrated poet and essayist Marianne Boruch ponders poets and poetry, examining how the imagination works with mystery and surprise in a variety of writers. Combining a richly associative style with original insights on poetic texts, she brings in material from other worlds--among them, science and music--to demonstrate the myriad ways we transform experience and knowledge. The sixteen essays here explore poets and poetry, the writing life, and a host of fascinating topics that come into the wide range of Boruch's attention. She looks at how the imagination works with mystery and surprise in a variety of poets from Elizabeth Bishop to Theodore Roethke, from Russell Edson to Larry Levis, from Walt Whitman to Eavan Boland. She considers how the atomic bomb changed William Carlos Williams's deepest ambition for poetry, and how Edison's listening, through his famous deafness, informs our sense of the poetic line. Other essays explore how the car--its danger and solitude--helps us understand American poetry or how Dvoř k and Whitman shared darker things than their curious love for trains. Poetry transforms, changing over time in the work of individual poets as well as changing us as we read it or write it. Boruch's writing has a kind of musical, incantatory style, creating a mood in which many of her subjects are immersed. Her approach isn't meant to fix or crystallize her ideas in any hard and fast light, but rather to present the music of her thinking, its movement, its poetry. Boruch brings in personal memory and philosophical speculation, infusing much of this writing with slightly skewed skepticism and rueful uncertainty about one's ability to be absolute about anything, least of all poetry. She recognizes that much of the process of writing poetry is as mysterious as the power at the heart of a poem, and it's that mystery that fascinates both the writer and the reader. These essays start in passion and quietude--and curiosity, that willful not knowing, a process similar to how poems themselves begin, and keep going.
Trinity University Press, 9781595340115, 218pp.
Publication Date: April 19, 2005
About the Author
Marianne Boruch's poetry collections include The Book of Hours and Grace, Fallen from. Her eighth--Cadaver, Speak. In addition to In the Blue Pharmacy she's written Poetry's Old Air and a memoir, The Glimpse Traveler. Among her awards are Pushcart Prizes, a Fulbright/Visiting Professorship at the University of Edinburgh, fellowships from the NEA and the Guggenheim Foundation, and residencies from the Rockefeller Foundation's Bellagio Center and Isle Royale National Park. Her work has appeared in the New Yorker, Poetry, the Paris Review, the American Poetry Review, the Yale Review, and the London Review of Books. She teaches at Purdue University and in the low-residency MFA program at Warren Wilson College.
or
Not Currently Available for Direct Purchase