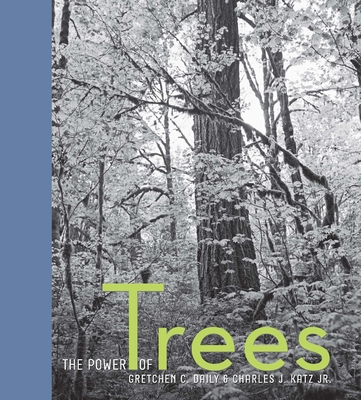 The Power of Trees (Hardcover)
Trinity University Press, 9781595341327, 1pp.
Publication Date: October 2, 2012
* Individual store prices may vary.
Description
Intimate in size yet quietly breathtaking in scope, this graceful gift book will forever change how you think, and how you feel, about trees. In poetically sparse scientific observations, renowned conservation biologist Gretchen Daily narrates the evolution, impact, and natural wonder of trees. Alongside photographs by Chuck Katz, the text and images form a quiet and moving meditation on The Power of Trees. Twenty-six duotone black and white photographs illustrate the development of trees: how trunks were formed, what tree rings tell us about human societies, and how trees define the future of humanity. Pictures of trees threading through the landscape - dotting mountainsides, braiding along the sides of glassine rivers - bear witness to the lyrical force and clarity of Daily's observations. Recreating the authors' hike together through the landscape of the Skagit River in Washington State, the balletic movement between Daily's commentary and Katz's vision reaches out to readers, inviting them to enjoy the landscape through a scientific understanding of trees. At once emotional and intellectual, The Power of Trees is the first collection of nature photographs that invites the reader to not only delight in the gorgeous play between light and shadow, but also the fascinating natural mechanisms that create such striking natural beauty. An ecologist by training, Gretchen Daily is an internationally acclaimed conservancy advocate and scholar. Her role as a National Trustee for The Nature Conservancy will feature prominently in the national marketing campaign to bridge the gap between scientific educators and the general nature reader.
About the Author
An ecologist by training, Gretchen Daily's work spans scientific research, teaching, public education, and working with leaders to advance practical approaches to environmental challenges. Daily's scientific research is on countryside biogeography and the future dynamics of biodiversity change; the scope for harmonizing biodiversity conservation and agriculture; quantifying the production and value of ecosystem services across landscapes; and new policy and finance mechanisms for integrating conservation and human development in major decisions. Daily cofounded the Natural Capital Project (naturalcapitalproject.org), an international effort focused on achieving this integration through research, practical tools, and policy-oriented demonstrations in contrasting places around the world. She works extensively with private landowners, economists, lawyers, business people, and government agencies to incorporate environmental issues into business practice and public policy. Daily received her B.S., M.S., and Ph.D. in Biological Sciences from Stanford University. She is a member of the U.S. National Academy of Sciences and serves on the boards of the Stockholm Resilience Center and the Nature Conservancy. She has published over 200 scientific and popular articles, and her most recent books are The New Economy of Nature: The Quest to Make Conservation Profitable, with journalist Katherine Ellison, and Natural Capital: Theory and Practice of Mapping Ecosystem Services, coedited with several colleagues. Charles Katz Jr. has been an active photographer while pursuing a professional career as an attorney and business executive. He serves on the board of directors of the Nature Conservancy of Washington and on the boards of advisers for the Natural Capital Project, Stanford University's Woods Institute for the Environment, and Stanford's School of Earth Sciences. His previous publications in photography include Etched in Stone: The Geology of City of Rocks National Reserve and Castle Rocks State Park, Idaho, with text by Kevin R. Pogue.