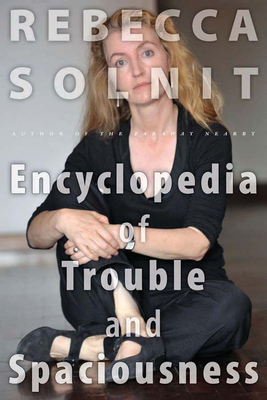 The Encyclopedia of Trouble and Spaciousness
Hardcover

* Individual store prices may vary.
Other Editions of This Title:
Paperback (11/3/2015)
Description
The incomparable Rebecca Solnit, author of more than a dozen acclaimed books of nonfiction, brings the same dazzling writing to the twenty-nine essays in The Encyclopedia of Trouble and Spaciousness. As the title suggests, the territory of Solnit's concerns is vast, and in her signature alchemical style she combines commentary on history, justice, war and peace, and explorations of place, art, and community, all while writing with the lyricism of a poet to achieve incandescence and wisdom. Gathered here are celebrated iconic essays along with little-known pieces that create a powerful survey of the world we live in. In its encyclopedic reach and its generous compassion, Solnit's collection charts a way through the thickets of our complex social and political worlds. Like the women who've pioneered before her--Sontag, Didion, and Dillard--her essays are a beacon.
Trinity University Press, 9781595341983, 344pp.
Publication Date: October 28, 2014
About the Author
San Francisco writer Rebecca Solnit is the author of fifteen books about art, landscape, public and collective life, ecology, politics, hope, meandering, reverie, and memory. They include the critically acclaimed memoir The Faraway Nearby; Infinite City: A San Francisco Atlas; A Paradise Built in Hell: The Extraordinary Communities That Arise in Disaster; Storming the Gates of Paradise; A Field Guide to Getting Lost; Hope in the Dark: Untold Histories, Wild Possibilities; Wanderlust: A History of Walking; As Eve Said to the Serpent: On Landscape, Gender, and Art; and River of Shadows: Eadweard Muybridge and the Technological Wild West, for which she received a Guggenheim fellowship, the National Book Critics Circle Award in criticism, and the Lannan Literary Award. Solnit has worked with climate change, Native American land rights, antinuclear, human rights, and antiwar issues as an activist and journalist. She is a contributing editor to Harper's and a frequent contributor to the political site Tomdispatch.com and has made her living as an independent writer since 1988.