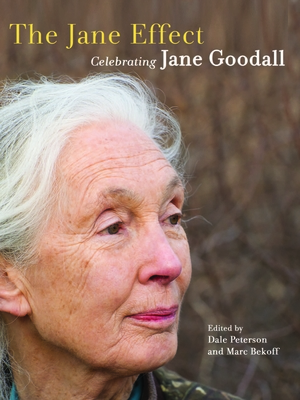 The Jane Effect (Paperback)
Celebrating Jane Goodall
Trinity University Press, 9781595342539, 272pp.
Publication Date: February 10, 2015
* Individual store prices may vary.
Description
In her nearly 60-year career as a groundbreaking primatologist and a passionate conservationist, Jane Goodall has touched the hearts of millions of people. The Jane Effect: Celebrating Jane Goodall is a collection of testimonies by her friends and colleagues honoring her as a scientific pioneer, an inspiring teacher, a devoted friend, and an engaging spirit whose complex personality tends to break down usual categories. Jane Goodall is the celebrity who transcends celebrity. The distinguished scientist who's open to nonscientific ways of seeing and thinking. The human who has lived among non-humans. She is a thoughtful adult with depth and sobriety who also possesses a child's psychological immediacy and sense of wonder. She is a great scientific pioneer, and yet her pioneering work goes far beyond producing advances in scientific knowledge. The more than 100 original pieces included in this inspirational collection give us a sense of her amazing reach and the power of the "Jane effect.
About the Author
Translated into nine foreign languages, Dale Peterson's books have been distinguished as Best Book of the Year by the Boston Globe, the Denver Post, Discover, The Economist, the Globe and Mail, Library Journal, and the Village Voice. Two of his books were named Notable Books of the Year by the New York Times. He is the author of the definitive biography Jane Goodall: The Woman Who Redefined Man, The Moral Lives of Animals, Giraffe Reflections, Chimpanzee Travels: On and Off the Road in Africa, and Visions of Caliban: On Chimpanzees and People, which he co-authored with Goodall. He serves as a member of the executive board for PEN New England. He lives in Arlington, Massachusetts. Marc Bekoff is a former professor of ecology and evolutionary biology at the University of Colorado, Boulder, an ambassador for Jane Goodall's Roots & Shoots program, and a member of the Ethics Committee of the Jane Goodall Institute. He and Goodall co-founded the organization Ethologists for the Ethical Treatment of Animals: Citizens for Responsible Animal Behavior Studies in 2000. He is the author of, most recently, Rewilding Our Hearts: Building Pathways of Compassion and Coexistence, Why Dogs Hump and Bees Get Depressed: The Fascinating Science of Animal Intelligence, Emotions, Friendship, and Conservation, the award-winning children's book Jasper's Story: Saving Moon Bears (with Jill Robinson), and The Ten Trusts: What We Must Do to Care for the Animals We Love, which he co-authored with Goodall. He lives in Boulder, Colorado.