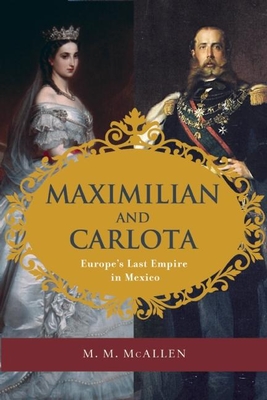 Maximilian and Carlota
Europe's Last Empire in Mexico
Paperback

* Individual store prices may vary.
Description
In this new telling of Mexico's Second Empire and Louis Napol on's installation of Maximilian von Habsburg and his wife, Carlota of Belgium, as the emperor and empress of Mexico, Maximilian and Carlota brings the dramatic, interesting, and tragic time of this six-year-siege to life. From 1861 to 1866, the French incorporated the armies of Austria, Belgium--including forces from Crimea to Egypt--to fight and subdue the regime of Mexico's Benito Ju rez during the time of the U.S. Civil War. France viewed this as a chance to seize Mexican territory in a moment they were convinced the Confederacy would prevail and take over Mexico. With both sides distracted in the U.S., this was their opportunity to seize territory in North America. In 1867, with aid from the United States, this movement came to a disastrous end both for the royals and for France while ushering in a new era for Mexico. In a bid to oust Ju rez, Mexican conservatives appealed to European leaders to select a monarch to run their country. Maximilian and Carlota's reign, from 1864 to 1867, was marked from the start by extravagance and ambition and ended with the execution of Maximilian by firing squad, with Carlota on the brink of madness. This epoch moment in the arc of French colonial rule, which spans North American and European history at a critical juncture on both continents, shows how Napoleon III's failure to save Maximilian disgusted Europeans and sealed his own fate. Maximilian and Carlota offers a vivid portrait of the unusual marriage of Maximilian and Carlota and of international high society and politics at this critical nineteenth-century juncture. This largely unknown era in the history of the Americas comes to life through this colorful telling of the couple's tragic reign.
Praise For Maximilian and Carlota: Europe's Last Empire in Mexico…
"On the 150th anniversary of the installation of Austria's Archduke Ferdinand Maximilian von Habsburg as emperor of Mexico, McAllen offers an authoritative, detailed, and engrossing account of the rise and fall of Mexico's Second Empire... McAllen ably demonstrates how the Second Empire's collapse was one of the most spectacular personal tragedies and political failures of the 19th century." -- "Publishers Weekly"
"Meticulously researched and filled with colorful narrative, "Maximilian and Carlota" is an absorbing read for both amateur historians and students of the human condition." -- "San Antonio Current"
"McAllen's book offers a fascinating and meticulously researched glimpse at Maximilian's doomed empire." -- "Santa Fe New Mexican"
"McAllen has forged a multifaceted jewel of narrative history, sweeping and cinematic, delving into one of the more fascinating and tragically misguided episodes in Mexico's history." -- "Houston Chronicle"
"This is a thorough, complete history of Mexico's second empire. The author leaves nothing untouched."
-- William H. Beezley, professor of history at the University of Arizona
""Maximilian and Carlota" is a deeply researched book about a period of Mexican history that, while vital for understanding modern Mexico and its relations with the United States and Europe, is of perhaps unparalleled cultural, political, and military complexity for such a short period."
-- C. M. Mayo, author of "The Last Prince of the Mexican Empire"
"Mexican history offers a phantasmagoria that beggars the imagination. Most writers seem to focus on three distinct eras: Conquest, Independence, and Revolution. But perhaps the most surreal, tragic, yet oddly comedic era in Mexico has gone largely unexamined, until now. M. M. McAllen has written an important book that not only reads like a novel of fantastic inventions but is key to understanding the soul of Mexico today. " -- Luis Albertio Urrea, author of "The Hummingbird's Daughter"
"Examines the short reign of a married Austrian archduke and Belgian princess appointed by France's emperor Napoleon III to rule Mexico." -- "Chronicle of Higher Education"
"With rich texture and apposite detail, McAllen ably recounts the events of Maximilian's short and disastrous reign." -- "Booklist"
"With the 150th anniversary in mind (April 10, 1864), "Maximilian and Carlota" details Louis Napoleon's intrepid scheme to install Maximilian von Habsburg and his wife as emperor and empress, but also details the intrigues and incongruities that occurred while nineteenth-century European leaders sought to remake the New World in their vision." -- "Foreword Reviews"
"Enthralling, exhaustively researched and fresh.... A big multi-layered story -- cinematic, nightmarish and poignant." -- "Austin American-Statesman"
Trinity University Press, 9781595342638, 552pp.
Publication Date: April 14, 2015