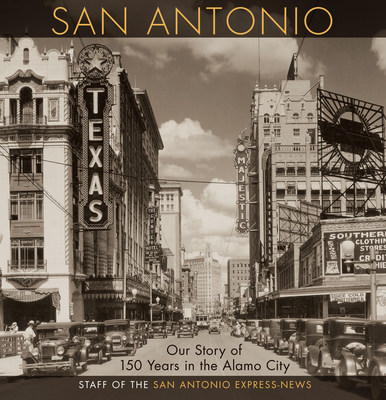 San Antonio
Our Story of 150 Years in the Alamo City
Hardcover

* Individual store prices may vary.
Description
On Sept. 27, 1865, the San Antonio Express-News made its debut. And from the beginning, there was plenty to write about. The Civil War had just concluded, and it was only twenty-nine years after the fall of the Alamo. The Chisholm Trail, the high road of the Cattle Kingdom, began in San Antonio, which was the largest and among the most diverse cities in Texas. Spanish, German, and English were commonly spoken. The politics were lively and sometimes divisive, as the city was full of Unionist sympathizers in a state that was an anchor of the Confederacy. Today, 150 years later, San Antonio is America's fastest-growing big city and still making history. San Antonio is a richly illustrated compilation of more than 150 years of coverage on the history and culture of the city, as told in the pages of the San Antonio Express-News. From local politics to news stories on the military, energy, water use, the border and immigration that reverberate nationally and internationally, to the recent naming of San Antonio's five Spanish missions as a World Heritage site, the city has always been a place where the American identity is forged. This book tracks the city's past from 1865 until 2015 and is full of evocative pictures and compelling accounts culled from the Express-News archives. The collection celebrates companies that shaped the city, such as Frost Bank, which began extending credit in 1867; the Sisters of Charity of the Incarnate Word, founders in 1869 of what is now the Christus Santa Rosa Health System and subsequently their namesake university; and H-E-B grocery. This is not a standard civic history or a straightforward march through the decades. Loosely organized by theme, the stories in the collection are often quite often surprising, just like San Antonio itself. As anyone who has spent time in the city knows, this is a place with a soul.
Maverick Books, 9781595347558, 528pp.
Publication Date: October 27, 2015
About the Author
The San Antonio Express-News is ranked as the fourth-largest daily newspaper in Texas and is one of the leading news sources for South Texas, with offices in San Antonio, Austin, Brownsville, Laredo, and Mexico City.