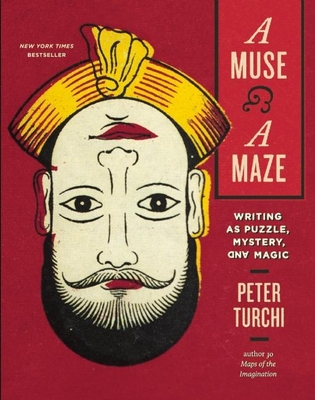 A Muse and a Maze
Writing as Puzzle, Mystery, and Magic
Paperback

* Individual store prices may vary.
Other Editions of This Title:
Hardcover (11/11/2014)
Description
With his characteristic talent for finding the connections between writing and the stuff of our lives (most notably in his earlier hit Maps of the Imagination: The Writer as Cartographer), Peter Turchi ventures into new, and even more surprising, territory. In A Muse and a Maze, Turchi draws out the similarities between writing and puzzle-making and its flip side, puzzle-solving. He teases out how mystery lies at the heart of all storytelling. And he uncovers the magic--the creation of credible illusion--that writers share with the likes of Houdini and master magicians. In Turchi's associative narrative, we learn about the history of puzzles, their obsessive quality, and that Benjamin Franklin was a devotee of an ancient precursor of sudoku called Magic Squares. Applying this rich backdrop to the requirements of writing, Turchi reveals as much about the human psyche as he does about the literary imagination and the creative process. With the goal of giving writers new ways to think about their work and readers new ways to consider the books they encounter, A Muse and a Maze suggests ways in which every piece of writing is a kind of puzzle. The work argues that literary writing is defined, at least in part, by its embrace of mystery; offers tangrams as a model for the presentation of complex characters; compares a writer's relationship to his or her narrator to magicians and wizards; offers the maze and the labyrinth as alternatives to the more common notion of the narrative line; and concludes with a discussion of how readers and writers, like puzzle solvers, not only tolerate but find pleasure in difficulty. While always balancing erudition with accessibility, Turchi examines the work of writers as various as A. A. Milne, Dashiell Hammett, Truman Capote, Anton Chekhov, Alison Bechdel, F. Scott Fitzgerald, Antonya Nelson, Vladimir Nabokov, Charles D'Ambrosio, Michael Ondaatje, Alice Munro, Thomas Bernhard, and Mark Twain, elaborating and illuminating ways in which their works expand and deliver on the title's double entendre, A Muse and a Maze. With 100 images that range from movie stills from Citizen Kane and Butch Cassidy and the Sundance Kid to examples of sudokus, crosswords, and other puzzles; from Norman Rockwell's famous triple self-portrait to artwork by Charles Richie; and from historical arcana to today's latest magic, A Muse and a Maze offers prose exposition, images, text quotations, and every available form of wisdom, leading the reader step-by-step through passages from stories and novels to demonstrate, with remarkable clarity, how writers evolve their eventual creations.
Trinity University Press, 9781595347596, 248pp.
Publication Date: October 6, 2015
About the Author
Called one of the country's foremost thinkers on the art of writing by the Houston Chronicle, Peter Turchi's books include Maps of the Imagination: The Writer as Cartographer; Suburban Journals: The Sketchbooks, Drawings, and Prints of Charles Ritchie, in collaboration with the artist; a novel, The Girls Next Door; and a collection of stories, Magician. Turchi's short story Night, Truck, Two Lights Burning, listed as one of 100 Notable Stories of 2002 by the editors of Best American Short Stories and one of 15 Recommended Stories by the jury for the O. Henry Prize Stories, has been published in Arabic and, in English, combined with images by Charles Ritchie, in a limited edition artist's book. He has also coedited, with Andrea Barrett, A Kite in the Wind: Fiction Writers on Their Craft and The Story Behind the Story: 26 Stories by Contemporary Writers and How They Work; and, with Charles Baxter, Bringing the Devil to His Knees: The Craft of Fiction and the Writing Life. Turchi's stories have appeared in Ploughshares, Story, the Alaska Quarterly Review, Puerto del Sol, and the Colorado Review. He has received Washington College's Sophie Kerr Prize, an Illinois Arts Council Literary Award, North Carolina's Sir Walter Raleigh Award, and fellowships from the National Endowment for the Arts and the John Simon Guggenheim Memorial Foundation. From 1993 to 2008 he directed the MFA Program for Writers at Warren Wilson College in Asheville, North Carolina. Turchi recently taught at Arizona State University, where he was director of the creative writing program, and he's currently a professor of creative writing at the University of Houston.