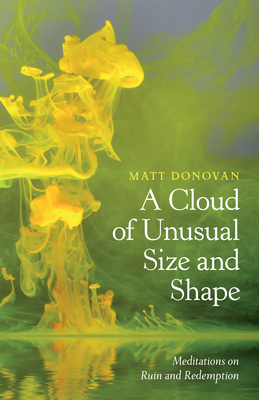 A Cloud of Unusual Size and Shape (Paperback)
Meditations on Ruin and Redemption
Trinity University Press, 9781595347602, 264pp.
Publication Date: April 12, 2016
* Individual store prices may vary.
Description
The title cloud of Matt Donovan's A Cloud of Unusual Size and Shape refers to the volcanic eruption of Mount Vesuvius that in 79 AD buried the city of Pompeii under twenty feet of ash. It's no surprise, then, that Donovan found the sacred ruins a site of inspiration and power, using their legacy to form the beginning of this extraordinary nonfiction debut. Donovan pursues the image of the cloud throughout these 15 spell-binding essays on ruin and redemption. A Cloud of Unusual Size and Shape is about the flawless connections between antiquity and the present, personal experience to historical events, architecture to art installation to literature. The redemptive power of beauty hovers over this spectacular work, reminding us that darkness and light make an inextricable pattern over our lives and form the delicate balance of what ultimately makes life worthwhile, what gives meaning to the sorrow and joy of being human.
About the Author
Matt Donovan is the author of the book of poems Vellum (Houghton Mifflin/Mariner, 2007), which won the 2006 Bakeless Prize in Poetry as well as the 2008 Larry Levis Reading Prize from Virginia Commonwealth University. His poems have appeared in numerous journals, including AGNI, American Poetry Review, Gettysburg Review, Kenyon Review, and Poetry, and his nonfiction has appeared in journals such as AGNI, Blackbird, Black Warrior Review, Kenyon Review, Seneca Review, Threepenny Review, and Virginia Quarterly Review. Donovan is the recipient of a Rome Prize in Literature, a Whiting Award, a Pushcart Prize, a Literature Fellowship from the National Endowment for the Arts, a Breadloaf Fellowship in poetry, and a Lannan Writing Residency Fellowship. His work has been acclaimed in The New Yorker, the Chicago Tribune, and The New York Times Sunday Book Review. Matt Donovan received his MA from Lancaster University and his MFA from New York University where he attended as a New York Times Fellow. He is Professor of Practice in English Language & Literature and Director of The Poetry Center at Smith College.