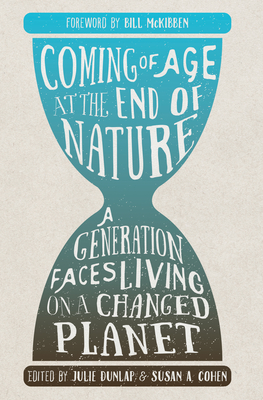 Coming of Age at the End of Nature
A Generation Faces Living on a Changed Planet
Paperback

* Individual store prices may vary.
Description
Coming of Age at the End of Nature explores a new kind of environmental writing. This powerful anthology gathers the passionate voices of young writers who have grown up in an environmentally damaged and compromised world. Each contributor has come of age since Bill McKibben foretold the doom of humanity's ancient relationship with a pristine earth in his prescient 1988 warning of climate change, The End of Nature. What happens to individuals and societies when their most fundamental cultural, historical, and ecological bonds weaken--or snap? In Coming of Age at the End of Nature, insightful millennials express their anger and love, dreams and fears, and sources of resilience for living and thriving on our shifting planet. Twenty-two essays explore wide-ranging themes that are paramount to young generations but that resonate with everyone, including redefining materialism and environmental justice, assessing the risk and promise of technology, and celebrating place anywhere from a wild Atlantic island to the Arizona desert, to Baltimore and Bangkok. The contributors speak with authority on problems facing us all, whether railing against the errors of past generations, reveling in their own adaptability, or insisting on a collective responsibility to do better. Contributors include Blair Braverman, Jason Brown, Cameron Conaway, Elizabeth Cooke, Amy Coplen, Ben Cromwell, Sierra Dickey, Ben Goldfarb, CJ Goulding, Bonnie Frye Hemphill, Lisa Hupp, Amaris Ketcham, Megan Kimble, Craig Maier, Abby McBride, Lauren McCrady, James Orbesen, Alycia Parnell, Emily Schosid, Danna Staaf, William Thomas, and Amelia Urry.
Trinity University Press, 9781595347800, 248pp.
Publication Date: October 11, 2016
About the Author
Bill McKibben is a writer and environmentalist who in 2014 was awarded the Right Livelihood Prize, sometimes called the alternative Nobel. He is the author of more than a dozen books, including The End of Nature (1989), regarded as the first work for a general audience about climate change. He is also a founder of 350.org, the first planet-wide, grassroots climate change movement; the Schumann Distinguished Scholar in Environmental Studies at Middlebury College; and a fellow of the American Academy of Arts and Sciences. His honors include the Gandhi Prize, the Thomas Merton Prize, and honorary degrees from eighteen colleges and universities.