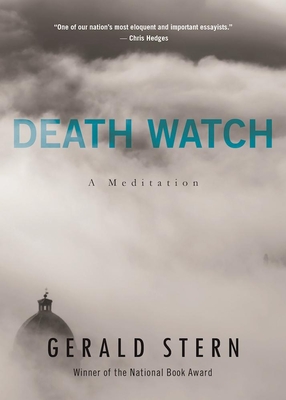 Death Watch
A View from the Tenth Decade
Paperback

* Individual store prices may vary.
Description
In Death Watch, the National Book Award-winning poet Gerald Stern uses powerful prose to sift through personal and prophetic history and contemplate his own mortality. Characteristically audacious, uncompromising, funny, and iconoclastic, Stern looks back at his life and forward in time to how his story will play out. Wrestling with his identity in Judaism, he explores how his name was uprooted from its origins, as so much of his life will be willfully disrupted from the expectations of his parents and the norms of a predictable path. Stern recounts his life, itself "a grand digression," which takes him from Pittsburgh, to the Army, to Paris on the GI Bill, and back to the United States, where he immerses himself in the literary culture around him. Stern's early and traumatic loss of his older sister provides the occasion to imagine what her life might have been, and he revels in his past love affairs, the many women beloved in his life. He recollects books that occupy his recent reading--the work of W.G. Sebald, Blaise Cendrars, and Louis-Ferdinand C line--and how memory is always at the heart of literary accomplishment and what creates the staying power of great literature. Death Watch is as an account of a beloved poet's final journey; a vivid, passionate, and, at times, whimsical look at the gamble of living life to its fullest, choosing the life of a poet, philosopher, prophet, lover, radical, and perpetual troublemaker.
Trinity University Press, 9781595347848, 224pp.
Publication Date: February 14, 2017
About the Author
Gerald Stern's recent books of poetry are Divine Nothingness, In Beauty Bright, Early Collected Poems: 1965-1992, Save the Last Dance, This Time: New and Selected Poems, which won the National Book Award, Odd Mercy, and Bread without Sugar. His honors include the Award of Merit Medal from the American Academy of Arts and Letters, the Paris Review's Bernard F. Conners Award, the Bess Hokin Award from Poetry, the Ruth Lilly Prize, four National Endowment for the Arts grants, the Pennsylvania Governor's Award for Excellence in the Arts, the Jerome J. Shestack Poetry Prize from the American Poetry Review, and fellowships from the Academy of American Poets, the John Simon Guggenheim Memorial Foundation, and the Pennsylvania Council on the Arts. In 2005 Stern received the Wallace Stevens Award for mastery in the art of poetry. For many years a teacher at the University of Iowa Writers' Workshop, Stern lives in Lambertville, NJ.