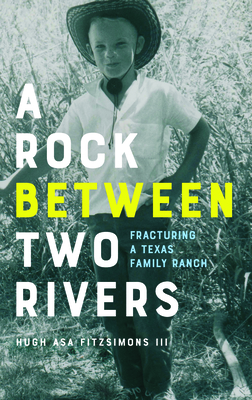 A Rock Between Two Rivers
The Fracturing of a Texas Family Ranch
Hardcover

* Individual store prices may vary.
Description
A Rock between Two Rivers is the story of a man coming to terms with the environmental legacy of his family's ranch in Dimmitt County, Texas, and reckoning with the birthright he'll leave for the generations who follow. What began for Hugh Fitzsimons as a mission to expose local ecological hazards from hydraulic fracking has turned into a lifelong ache to understand the more complicated story of how his family changed the land inherited from his grandfather, and deeper still, how the land irrevocably changed the family. Water is the lens through which this fifth-generation rancher tells his story. While the discovery of oil in this part of Texas fueled the region's growth, water has the upper hand, determining where people live and how they make their living. Agriculture, ranching, drilling for oil, and now fracking all require water, with each pursuit requiring more and more but giving back less and less to the communities they've helped enrich. In A Rock between Two Rivers, Fitzsimons struggles with the inheritance he wants for his own children, one that considers the future consequences of our actions toward the land we are born to and owns the broader threats to our natural resources that loom in the near distance. Interweaving a family narrative of a life built on the U.S.-Mexico border and the history of European colonization with its brutal consequences on the land and indigenous peoples, Fitzsimons explores how our attitudes toward this precious resource have changed alongside our relationship to the places we call home.
Trinity University Press, 9781595348401, 256pp.
Publication Date: October 16, 2018
About the Author
Hugh Asa Fitzsimons III is a third-generation rancher from Dimmit County, Texas, and a director of the Wintergarden Groundwater Conservation District, which focuses on preserving and protecting groundwater across three counties. He holds a master's degree in history from the University of Texas at San Antonio, and he is the owner of Thunderheart Bison and Native Nectar Guajillo Honey, established in 1998. He is currently expanding into the cultivation of environmentally beneficial restorative plants and crops. He is the author of A Rock Between Two Rivers: Fracturing a Texas Family Ranch.