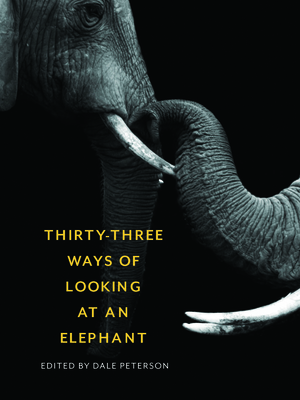 Thirty-Three Ways of Looking at an Elephant
Paperback

* Individual store prices may vary.
Description
Elephants have captivated the human imagination for as long as they have roamed the earth, appearing in writings and cultures from thousands of years ago and still much discussed today. In Thirty-Three Ways of Looking at an Elephant, veteran scientific writer Dale Peterson has collected thirty-three essential writings about elephants from across history, with geographical perspectives ranging from Africa and Southeast Asia to Europe and the United States. An introductory headnote for each selection provides additional context and insights from Peterson's substantial knowledge of elephants and natural history. The first section of the anthology, "Cultural and Classical Elephants," explores the earliest mentions of elephants in African mythology, Hindu theology, and Aristotle and other ancient Greek texts. "Colonial and Industrial Elephants" finds elephants in the crosshairs of colonial exploitation in accounts pulled from memoirs commodifying African elephants as a source of ivory, novel targets for bloodsport, and occasional export for circuses and zoos. "Working and Performing Elephants" gives firsthand accounts of the often cruel training methods and treatment inflicted on elephants to achieve submission and obedience. As elephants became an object of scientific curiosity in the mid-twentieth century, wildlife biologists explored elephant families and kinship, behaviors around sex and love, language and self-awareness, and enhanced communications with sound and smell. The pieces featured in "Scientific and Social Elephants" give readers a glimpse into major discoveries in elephant behaviors. "Endangered Elephants" points to the future of the elephant, whose numbers continue to be ravaged by ivory poachers. Peterson concludes with a section on literary elephants and ends on a hopeful note with the 1967 essay "Dear Elephant, Sir," which argues for the moral imperative to save elephants as an act of redemption for their systematic abuse and mistreatment at human hands. Essential to our understanding of this beloved creature, Thirty-Three Ways of Looking at an Elephant is a must for any elephant lover or armchair environmentalist.
Trinity University Press, 9781595348661, 320pp.
Publication Date: October 20, 2020
About the Author
Dale Peterson's twenty previous books have been named Best of the Year by the Boston Globe, the Denver Post, Discover, the Economist, the Globe and Mail, Library Journal, and the Village Voice. Two titles have been honored as Notable Book of the Year by the New York Times. Peterson is the author of the definitive biography Jane Goodall: The Woman Who Redefined Man, as well as Elephant Reflections, Giraffe Reflections, The Moral Lives of Animals, and The Ghosts of Gombe. With Jane Goodall, he coauthored Visions of Caliban: On Chimpanzees and People, and he is coeditor, with Marc Bekoff, of The Jane Effect: Celebrating Jane Goodall, published by Trinity University Press. A former fellow at the Radcliffe Institute for Advanced Study at Harvard University, Peterson teaches at Tufts University and lives in Arlington, Massachusetts.