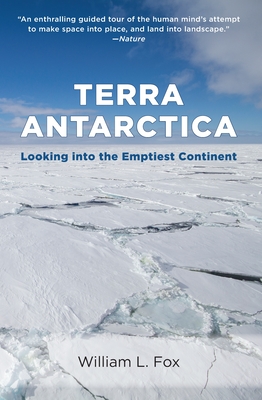 Terra Antarctica
Looking Into the Emptiest Continent
Paperback

* Individual store prices may vary.
Other Editions of This Title:
Paperback (4/5/2007)
Description
How does the human mind transform space into place, or land into landscape? For more than three decades, William L. Fox has looked at empty landscapes and the role of the arts to investigate the way humans make sense of space. In Terra Antarctica, Fox continues this line of inquiry as he travels to the Antarctic, the "largest and most extreme desert on earth." This contemporary travel narrative interweaves artistic, cartographic, and scientific images with anecdotes from the author's three-month journey in the Antarctic to create an absorbing and readable narrative of the remote continent. Through its images, history, and firsthand experiences--snowmobile trips through whiteouts and his icy solo hikes past the edge of the mapped world--Fox brings to life a place that few have seen and offers us a look into both the nature of landscape and ourselves.
Trinity University Press, 9781595348944, 364pp.
Publication Date: September 24, 2019
About the Author
William L. Fox is the author of Aeriality: On the World from Above and numerous other books. He received grants from the National Science Foundation and the Guggenheim Foundation to work on Terra Antarctica. He is the founding director of the Center for Art + Environment at the Nevada Museum of Art.