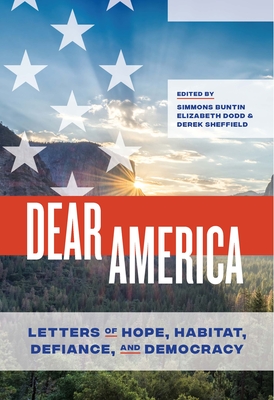 Dear America
Letters of Hope, Habitat, Defiance, and Democracy
Paperback

* Individual store prices may vary.
Description
America is at a crossroads. Conflicting political and social perspectives reflect a need to collectively define our moral imperatives, clarify cultural values, and inspire meaningful change. In that patriotic spirit, hundreds of writers, artists, scientists, and political and community leaders have come together since the 2016 presidential election to offer their impassioned letters to America, in a project envisioned by the online journal Terrain.org and collected in Dear America: Letters of Hope, Habitat, Defiance, and Democracy. In the inaugural piece in Terrain.org's Letters to America series, Alison Hawthorne Deming writes, "Think of the great spirit of inventiveness the Earth calls forth after each major disturbance it suffers. Be artful, inventive, and just, my friends, but do not be silent." oining Deming are renowned artists and thinkers including Seth Abramson, Ellen Bass, Jericho Brown, Francisco Cant , Kurt Caswell, Victoria Chang, Camille T. Dungy, Tarfia Faizullah, Blas Falconer, Attorney General Bob Ferguson, David Gessner, Katrina Goldsaito, Kimiko Hahn, Brenda Hillman, Jane Hirshfield, Linda Hogan, Pam Houston, Robin Wall Kimmerer, Karen An-hwei Lee, Christopher Merrill, Kathryn Miles, Kathleen Dean Moore, Aimee Nezhukumatathil, Naomi Shihab Nye, Elena Passarello, Dean Rader, Scott Russell Sanders, Lauret Savoy, Gary Soto, Pete Souza, Kim Stafford, Sandra Steingraber, Arthur Sze, Scott Warren, Debbie Weingarten, Christian Wiman, Robert Wrigley, and others. Dear America reflects the evolution of a moral panic that has emerged in the nation. More importantly, it is a timely congress of the personal and the political, a clarion call to find common ground and conflict resolution, all with a particular focus on the environment, social justice, and climate change. The diverse collection features personal essays, narrative journalism, poetry, and visual art from more than 130 contributors--many pieces never before published--all literary reactions to the times we live in, with a focus on civic action and social change as we approach future elections. As Scott Minar writes, we must remain steadfast and look to the future: "Despair can bring us very low, or it can make us smarter and stronger than we have ever been before.
Trinity University Press, 9781595349125, 424pp.
Publication Date: March 31, 2020
About the Author
Simmons Buntin is the editor-in-chief of Terrain.org. He has a master's degree in urban and regional planning from the University of Colorado Denver and an MFA in creative writing from the University of Arizona. He is the recipient of the Academy of American Poets Prize, the Colorado Artist's Fellowship for Poetry, and grants from the U.S. Forest Service, the Arizona Commission on the Arts, and the Tucson-Pima Arts Council. He is the author of Unsprawl: Remixing Spaces as Places, with Ken Pirie, and the poetry collections Riverfall and Bloom. He lives in Tucson, Arizona.