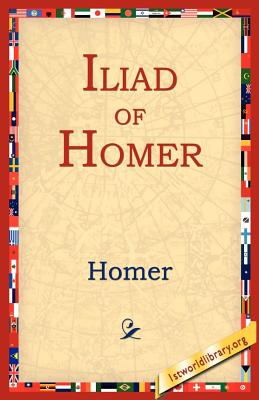 Iliad of Homer
Paperback

* Individual store prices may vary.
Other Editions of This Title:
Paperback (5/22/2018)
Paperback (2/28/2020)
Paperback (6/8/2018)
Paperback (12/3/2016)
Paperback (10/3/2019)
Paperback (5/14/2004)
Paperback (11/13/2018)
Hardcover (11/13/2018)
Paperback (6/10/2019)
Hardcover (10/10/2018)
Paperback (6/10/2019)
Hardcover (7/1/2005)
Hardcover (10/18/2018)
Paperback (11/15/2011)
Paperback (7/18/2019)
Paperback (5/16/2019)
Paperback (5/6/2019)
Paperback (10/10/2018)
Description
Purchase one of 1st World Library's Classic Books and help support our free internet library of downloadable eBooks. 1st World Library-Literary Society is a non-profit educational organization. Visit us online at www.1stWorldLibrary.ORG - How Agamemnon and Achilles fell out at the siege of Troy; and Achilles withdrew himself from battle, and won from Zeus a pledge that his wrong should be avenged on Agamemnon and the Achaians. Sing, goddess, the wrath of Achilles Peleus' son, the ruinous wrath that brought on the Achaians woes innumerable, and hurled down into Hades many strong souls of heroes, and gave their bodies to be a prey to dogs and all winged fowls; and so the counsel of Zeus wrought out its accomplishment from the day when first strife parted Atreides king of men and noble Achilles. Who among the gods set the twain at strife and variance? Apollo, the son of Leto and of Zeus; for he in anger at the king sent a sore plague upon the host, so that the folk began to perish, because Atreides had done dishonour to Chryses the priest. For the priest had come to the Achaians' fleet ships to win his daughter's freedom, and brought a ransom beyond telling; and bare in his hands the fillet of Apollo the Far-darter upon a golden staff; and made his prayer unto all the Achaians, and most of all to the two sons of Atreus, orderers of the host; "Ye sons of Atreus and all ye well-greaved Achaians, now may the gods that dwell in the mansions of Olympus grant you to lay waste the city of Priam, and to fare happily homeward; only set ye my dear child free, and accept the ransom in reverence to the son of Zeus, far-darting Apollo.
1st World Library - Literary Society, 9781595401489, 456pp.
Publication Date: September 1, 2004