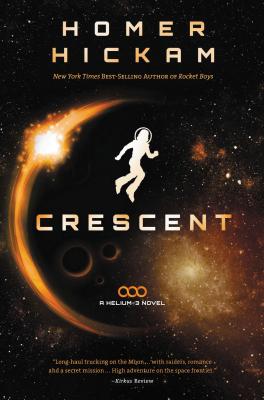 Crescent (Helium-3 #2)
Paperback

* Individual store prices may vary.
Other Editions of This Title:
Digital Audiobook (6/3/2013)
CD-Audio (6/11/2013)
CD-Audio (6/4/2013)
Description
She was born to kill, born to die.
Can an assassin be a friend?
Crescent is a crowhopper-a genetically modifiedmercenary programmed for ruthless warfare. For her it's a disaster when a youngman denies her the chance to die in battle. When Crater Trueblood captures her, takes her home with him to Moontown, and actually treats her kindly? That'sbeyond comprehension.
Crater is weary of war. He's a miner, not a soldier.He'd rather spend time working than battle the infernal crowhoppers and theirbosses from earth. When he captures a little crowhopper and brings her home, he's surprised to enjoy her company. When she's falsely accused of murder, hebecomes an outlaw to help her escape.
Maria Medaris, like her grandfather, is a ruthlesscompetitor in business and in life. She's well on her way to building an empirefor herself. But she's haunted by the memory of a young man she traveled withthree years earlier, the man she's vowed never to see again. Crater Trueblood.
When a murderous band of assassins attack, Crescent, Crater, and Maria escape into the "big suck" and trek with a caravan of mining pioneerstoward a lunar ghost town called Endless Dust. To survive they must do morethan navigate the beautiful, desolate moonscape and battle a persistent band ofcrowhoppers. They must decide what-and who-is truly worth fighting for.
Thomas Nelson, 9781595546630, 328pp.
Publication Date: June 4, 2013
About the Author
Homer Hickam is the author of the #1 New York Times bestseller Rocket Boys, which was made into the acclaimed movie October Sky. He is also the author of the best-seller Torpedo Junction, The Keeper's Son, The Ambassador's Son, the award-winning memoir Sky of Stone, and the bestseller Back to the Moon. He is married to Linda Terry Hickam. Visit homerhickam.com for more information.