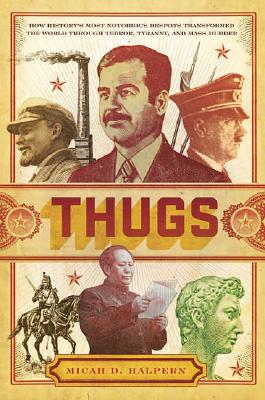 Thugs
How History's Most Notorious Despots Transformed the World Through Terror, Tyranny, and Mass Murder
Hardcover

* Individual store prices may vary.
Description
For the most notorious leaders in the history of the world, evil is more than just a moment of weakness―it's a way of life.
For every noble king, righteous emperor, and peace-loving president, history seems to serve up a double portion of murderous pharaohs, deranged dictators, or corrupt czars. "Thugs" probes this dark and twisted side of raw human power―from France's King Louis XIV to China's Mao Tse-Tung and everywhere in between. it's a fascinating peek into the lives of the rich and infamous, the sour creme de la creme.
Some, like Herod the Great, earned villainous reputations for slaughtering their own family members and countrymen. Others, like Egypt's King Farouk, were almost laughable in their misdeeds, amassing the world's largest collection of pornography. Then there are those leaders, such as Hitler, who committed acts of such unspeakable evil that their names are uttered as curses.
From Filipino first lady Imelda Marcos's bullet-proof bras to African strongman Ide Amin's bizarre fixation with all things Scottish, Micah D. Halpern turns the yellowed pages of history and contemporary news accounts to profile the bewildering, outrageous, horrific, gut-wrenching, zany, and tragicomic behavior of the world's worst leaders.
Thomas Nelson Publishers, 9781595550736, 350pp.
Publication Date: August 21, 2007
or
Not Currently Available for Direct Purchase