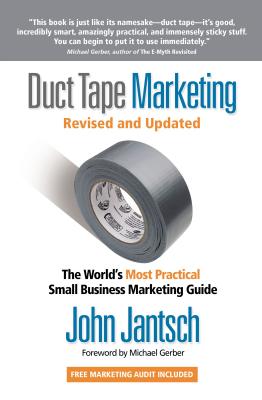 Duct Tape Marketing Revised and Updated
The World's Most Practical Small Business Marketing Guide
Paperback

* Individual store prices may vary.
Other Editions of This Title:
Compact Disc (10/24/2011)
Description
Is Your Marketing as Simple, Effective, and Affordable as Duct Tape?
Let's face it, as a small business owner, you are really in the business of marketing. The problem for most small business owners is that they suffer from "marketing idea of the week" syndrome instead of implementing a systematic approach to the problem of small business marketing.
In Duct Tape Marketing, renowned Small Business Marketing guru John Jantsch shows you how to develop and execute a marketing plan that will give your business the life and longevity you knew you could have when you made that decision to go out on your own.
CAREFUL Duct tape is a serious tool... it sticks where you put it. So are the ideas in this book. If you're ready to make a commitment and are willing to make something happen, John's book is a great place to start. ―Seth Godin, author of Purple Cow
For all those who wonder why John Jantsch has become the leading advisor and coach to small businesses everywhere, Duct Tape Marketing is the answer. I have never read a business book that is as packed with hands-on, actionable information as this one. There are takeaways in every paragraph, and the success of John's blog is living proof that they work. Duct Tape Marketing should be required reading for anyone who is building a business, or thinking about it. ―Bo Burlingham, editor-at-large, Inc. magazine, and author of Small Giants: Companies That Choose To Be Great Instead of Big
Duct Tape Marketing is a worthy addition to the growing library of how-to books on small business marketing―concise, clear, practical, and packed with great ideas to boost your bottom line. ―Bob Bly, author of The White Paper Handbook
With the world suffering from depleted reserves of trust, a business that sells plenty of it every day tends to create the most value. The great thing about trust as a product feature is that it delivers exceptional returns. With this book, John Jantsch has zeroed in on exactly what small businesses need to sell every day, every hour. ―Ben McConnell, co-author of Creating Customer Evangelists: How Loyal Customers Become a Volunteer Sales Force
John Jantsch has provided small businesses with the perfect perspective for maximizing all marketing activities - offline and on. Jantsch has the plan to help you thrive in the world of business today. Read it, all your competitors will. ―John Battelle, cofounding editor or Wired and author of The Search: How Google and Its Rivals Rewrote the Rules of Business and Transformed Our Culture
Duct Tape Marketing is a great read for anyone in business. It has fresh ideas laid out in a practical and useable way. I highly recommend this book for growing any business. ―Dr. Ivan Misner, Founder of BNI and Co-author of the New York Times bestseller, Masters of Networking
HarperCollins Leadership, 9781595554659, 279pp.
Publication Date: September 26, 2011