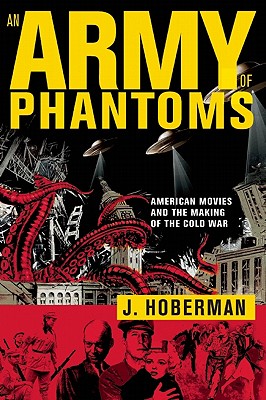 An Army of Phantoms: American Movies and the Making of the Cold War (Hardcover)
American Movies and the Making of the Cold War
New Press, The, 9781595580054, 432pp.
Publication Date: March 1, 2011
* Individual store prices may vary.
or
Not Currently Available for Direct Purchase
Description
An Army of Phantoms is a major new work of history and film criticism from the highly regarded critic J. Hoberman. Here he applies the same dynamic synergy of American politics and American popular culture to the Cold War's first decade that he brought to the 1960s in the critically acclaimed The Dream Life.

The years between 1946 and 1956 brought U.S. dominance over Europe and a new war in Asia, as well as the birth of the civil rights movement and the stirrings of a new youth culture. The period saw the movie industry purged of its political left while the rise of ideological action hero John Wayne came to dominate theaters. Analyzing movies and media events, Hoberman has organized a pageant of cavalry Westerns, apocalyptic sci-fi flicks, and biblical spectaculars wherein Cecil B. DeMille rubs shoulders with Douglas MacArthur, atomic tests are shown on live TV, God talks on the radio, and Joe McCarthy is bracketed with Marilyn Monroe. Here is a history of film that is also, to paraphrase Jean-Luc Godard, about the film of history.

Essential reading for film and history buffs, An Army of Phantoms recasts a crucial era in the light of the silver screen.
About the Author
One of the most highly respected film critics working today, J. Hoberman is the senior film critic for the "Village Voice." His thirtieth anniversary at the "Voice" was celebrated with a film series at the Brooklyn Academy of Music, and he received the Mel Novikoff Award at the 2008 San Francisco Film Festival. Hoberman is the author of "Bridge of Light"; "The Magic Hour"; "The Red Atlantis"; "Vulgar Modernism," which was a finalist for the National Book Critics Circle Award in criticism; "On Jack Smith's Flaming Creatures"; and "The Dream Life" (The New Press), among other books; he is the co-author, with Jonathan Rosenbaum, of "Midnight Movies." He has written for "Artforum," "Bookforum," the "London Review of Books," "The Nation," the "New York Review of Books," the "New York Times," and the "Virginia Quarterly Review," among other publications, and has taught cinema history at Cooper Union since 1990. He lives in New York.
Praise For An Army of Phantoms: American Movies and the Making of the Cold War…
"In An Army of Phantoms: American Movies and the Making of the Cold War, Village Voice critic J. Hoberman frames 1945 to 1956 in Hollywood's assumption that 'fantasy could be instrumentalized.' Fantasies include the voice of God on the radio, invasions from outer space, Westerns and a teenage menace. Monstrous ambitions beget screen monsters in this erudite study that's essential for anyone interested in American film....An Army of Phantoms is the prequel to Hoberman's earlier study of the 1960s, The Dream Life. Next he targets the Reagan 1980s. This Cold War saga will make you impatient for it."
—San Francisco Chronicle
Advertisement