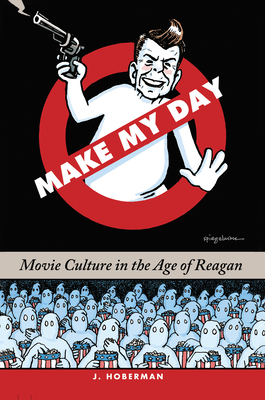 Make My Day
Movie Culture in the Age of Reagan
Hardcover

* Individual store prices may vary.
Description
Named a Best Book of the Year by Financial Times
Singular, stylish and slightly intoxicating in its scope.
--Rolling Stone
Acclaimed media critic J. Hoberman's masterful and majestic exploration of the Reagan years as seen through the unforgettable movies of the era
The third book in a brilliant and ambitious trilogy, celebrated cultural and film critic J. Hoberman's Make My Day is a major new work of film and pop culture history. In it he chronicles the Reagan years, from the waning days of the Watergate scandal when disaster films like Earthquake ruled the box office to the nostalgia of feel-good movies like Rocky and Star Wars, and the delirium of the 1984 presidential campaign and beyond.
Bookended by the Bicentennial celebrations and the Iran-Contra affair, the period of Reagan's ascendance brought such movie events as Jaws, Apocalypse Now, Blade Runner, Ghostbusters, Blue Velvet, and Back to the Future, as well as the birth of MTV, the Strategic Defense Initiative, and the Second Cold War.
An exploration of the synergy between American politics and popular culture, Make My Day is the concluding volume of Hoberman's Found Illusions trilogy; the first volume, The Dream Life, was described by Slate's David Edelstein as one of the most vital cultural histories I've ever read; Film Comment called the second, An Army of Phantoms, utterly compulsive reading. Reagan, a supporting player in Hoberman's previous volumes, here takes center stage as the peer of Indiana Jones and John Rambo, the embodiment of a Hollywood that, even then, no longer existed.
New Press, 9781595580061, 400pp.
Publication Date: July 2, 2019
About the Author
J. Hoberman's books include The Dream Life: Movies, Media, and the Mythology of the Sixties; An Army of Phantoms: American Movies and the Making of the Cold War; and Make My Day: Movie Culture in the Age of Reagan (all from The New Press). He has written for Artforum, the London Review of Books, The Nation, and the New York Review of Books. For over thirty years, he was a film critic for the Village Voice. He lives in New York.