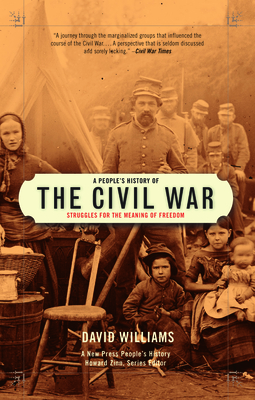 A People's History of the Civil War (Hardcover)
Struggles for the Meaning of Freedom (New Press People's History)
New Press, 9781595580184, 594pp.
Publication Date: November 3, 2005
* Individual store prices may vary.
Description
Moving beyond Presidents and generals, A People's History of the Civil War tells a new and powerful story of America's most destructive conflict. In the first book to view the civil war through the eyes of common people, historian David Williams presents long- overlooked perspectives and forgotten voices offering a comprehensive account of the war to general readers. The Civil War's most destructive battles, Williams argues, took place not only on the fields of Gettysburg, Antiesham, and Vicksburg, but also on the streets of New York, in prison camps, in the West, an on the starving home front. Labouring people, urban and rural, fought for economic justice. Women struggled for rights and opportunities and for their family's survival. Volunteers and conscripts demanded respect. Native Americans made the Civil War a war for freedom long before Lincoln embraced emancipation. Bottom up history at its very best. A People's History of the Civil War offers a rich and complex portrait of a nation at war with itself.
or
Not Currently Available for Direct Purchase