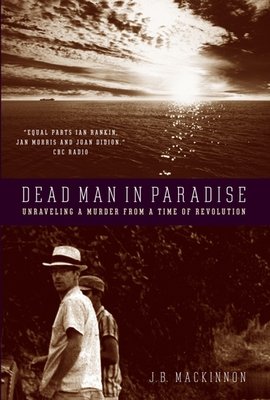 Dead Man in Paradise (Hardcover)
Unraveling a Murder from a Time of Revolution
New Press, 9781595581815, 261pp.
Publication Date: October 30, 2007
* Individual store prices may vary.
Description
At nightfall on June 22, 1965, amid the turmoil of the Dominican revolution and U.S. military occupation, a soldier emerged from the outskirts of a small town to report that he had just shot and killed two policemen and an outspoken Catholic priest. It's the opening scene in a mystery that, forty years later, compels writer J.B. MacKinnon--the priest's nephew, born five years after the incident--to visit the island nation for himself. Beginning with scant official information, he embarks on a chilling investigation of what many believe was a carefully plotted assassination--and on a search for the uncle he never knew.
Winner of Canada's highest award for literary nonfiction, Dead Man in Paradise takes MacKinnon to corners of the country far from the Caribbean paradise seen by millions of tourists; he meets with former revolutionaries and shadowy generals from the era of dictatorship, family members of the slain policemen, and struggling Dominicans for whom the dead priest is a martyr, perhaps even a saint. Along the way, he uncovers a story inseparable from the brutal history of the New World, from the fallout of American invasion, and from the pure longing for social justice that once touched a generation. Part memoir, part travelogue, part mystery thriller, Dead Man in Paradise is "a testament to the enduring virtues of literary journalism" (The Georgia Straight).
About the Author
J.B. MacKinnon is an independent journalist whose feature reportage on issues ranging from African prisons to anarchism in America has won three National Magazine Awards. He is the co-author (with Alisa Smith) of Plenty and lives in Vancouver, Canada.