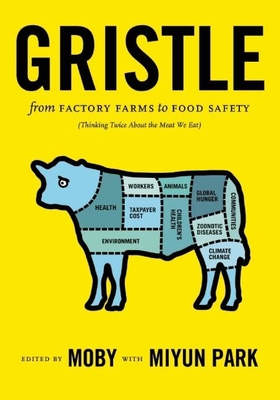 Gristle (Paperback)
From Factory Farms to Food Safety (Thinking Twice about the Meat We Eat)
New Press, 9781595581914, 140pp.
Publication Date: March 1, 2010
* Individual store prices may vary.
Description
An information-packed, lively, and informative little guide, Gristle is the first stop for everyone who wants to make informed choices about the food they consume. Multi-platinum musician Moby brings together ten of the country's leading foodies, policymakers, food-business leaders, and food activists, who lay out how and why the over-consumption of industrially produced meat unnecessarily harms agricultural workers, communities, the environment, and human health--as well as animals. Contributors include Moby, Brendan Brazier, Lauren Bush, John Mackey, Wayne Pacelle, Gowri Koneswaran and Meredith Niles, Sara Kubersky and Tom O'Hagan, Christine Chavez and Julie Chavez Rodriguez, Paul and Phyllis Willis, Michael Greger, M.D., Frances Moore Lappe and Anna Lappe, and Miyun Park (detaild bios below).
About the Author
Moby, one of the world's most critically acclaimed and commercially successful musicians, has been making music since he was 9 years old. He started out playing classical guitar and then went on to play with seminal Connecticut hardcore punk group The Vatican Commandoes when he was 13 before dj'ing after leaving college and becoming a fixture in the late 80s New York house and hip-hop scenes. Moby released his first single in 1991 (listed as one of Rolling Stone's best records of all time) and has been making albums ever since. Known for his political and social activism, he has been a vegan for more than fifteen years. Moby lives in New York City. Miyun Park is the executive director of Global Animal Partnership. Previously she served as Vice President, Farm Animal Welfare, for the Humane Society of the United States and its global affiliate, Humane Society International (www.humanesociety.org). She has helped to bring greater interest in and policy changes for the well-being of animals raised for meat, eggs, and milk into corporate board rooms, international investment banks, multilateral organizations, courthouses, and legislatures. Miyun has spoken on behalf of farm animals throughout the United States and in China, India, Croatia, Korea, Belgium, Egypt, and Italy, and has published dozens of articles and reports on animal agriculture and farm animal welfare, including an essay in Peter Singer's In Defense of Animals: The Second Wave and a chapter in State of the Animals IV: 2007, co-authored with Dr. Andrea Gavinelli of the European Commission. She is a board member of Global Animal Partnership (www.URLTOCOME.org) and Farm Forward (www.farmforward.com), and serves on the editorial board of the Gateway to Farm Animal Welfare, a web portal created by the Food and Agriculture Organization of the United Nations. She lives in Washington D.C. Brendan Brazier, two-time Canadian 50km Ultra Marathon Champion, raced Ironman triathlons professionally for seven years before becoming a bestselling author on performance nutrition (The Thrive Diet, Penguin 2007) and the creator of Vega (http: //sequelnaturals.com/vega), an award-winning line of whole food nutritional products. He is one of only a few professional athletes in the world whose diet is 100% plant-based. Named one of the "25 Most Fascinating Vegetarians" by VegNews magazine and one of the "Top 40 under 40" by Natural Food Merchandiser, Brendan has lectured on the role that food plays--in our health and that of the environment--throughout North America (www.brendanbrazier.com). Brendan splits his time between Los Angeles, CA and Vancouver, Canada. Lauren Bush is the chief executive officer and co-founder of FEED Projects (www.feedprojects.org), a charitable company with the mission of creating good products that help feed the world. Each FEED bag sold provides hungry children with school meals through the United Nations World Food Program (WFP). Lauren has been an Honorary Spokesperson for WFP since 2003, and has traveled to Guatemala, Cambodia, Lesotho, Sri Lanka, Chad, Tanzania, Rwanda, and Honduras to help in the fight against hunger and created the initial FEED 1 bag. As a model, Lauren has carved her own niche in the fashion world and was featured on the cover of various publications such as Vogue, Vanity Fair, Glamour, Tatler, W, and Town and Country. She now resides in New York City, where she works on FEED and other socially conscious and eco-friendly projects, such as a women's wear line she designed called Lauren Pierce, which utilizes environmentally-friendly and worldly fabrics. She lives in New York, NY. Christine Chavez once heard her grandfather Cesar Chavez say, "We don't need perfect political systems. We need perfect participation." Taking his words to heart, she has come to master the art of modern-day campaigning and community organizing. For eight years, she served as the Political Director of the United Farm Workers Union (www.ufw.org), the organization her grandfather helped co-found in 1962, and during her tenure, was named by Latina Magazine as one of the top Latinas for her longtime involvement with civil rights issues. Today, she works on campaigns to advance progressive causes, putting to use her years of experience with farm workers to level the playing field for issues she believes in. Lauded by such organizations as the Chicana Latina Foundation of San Francisco and the Rhode Island Women's Fund, and recently profiled in Oprah Magazine for her involvement in the Gen 2 Project, Christine's work--and her compassion for animals--are based on the values passed down to her from her grandfather: the fight for civil rights, social justice, and labor equality. She lives in Los Angeles, CA. Michael Greger, M.D., is Director of Public Health and Animal Agriculture at the Humane Society of the United States (www.humanesociety.org). An internationally recognized lecturer, he has presented at the Conference on World Affairs, the National Institutes of Health, and the International Bird Flu Summit, among countless other symposia and institutions, testified before U.S. Congress, and was invited as an expert witness in defense of Oprah Winfrey at the infamous "meat defamation" trial. Among his recent publications are articles in Critical Reviews in Microbiology, International Journal of Food Safety Nutrition and Public Health, American Journal of Preventive Medicine, and Biosecurity and Bioterrorism, exploring the public health implications of industrialized animal agriculture. His latest book, Bird Flu: A Virus of Our Own Hatching, is available full-text at no cost at www.BirdFluBook.org. Dr. Greger is a graduate of the Cornell University School of Agriculture and the Tufts University School of Medicine. He lives in Washington, D.C. Sara Kubersky, Tom O'Hagan, and their son Leo are native New Yorkers and long-time advocates for reducing suffering. Sara, with her sister Erica, is the co-owner of MooShoes (www.mooshoes.com), a cruelty-free shoe store established in 2001 in Manhattan. Originally located in a defunct butcher shop, MooShoes currently operates in New York City's Lower East Side and provides increasing numbers of caring consumers from around the world with animal-friendly footwear and information on factory farming practices. Tom, who works in product development for a publishing/information resource company and formerly co-owned Chainsaw Safety Records, an independent label based in Queens, N.Y., has written about music in such outlets as Rumpshaker fanzine and Rockpile magazine, and currently blogs about film, books, and music. Their son Leo, who has been vegan for his entire life, is the embodiment of how healthy an animal product-free diet can be. They all live in New York, NY. Anna Lappe is a national bestselling author and acclaimed public speaker on food, sustainability and the environment. Named one of Time's Eco-Who's Who, Lappe has been featured in The New York Times, Gourmet, and Food & Wine, and appears regularly as an expert commentator on television and radio. From 2004 to 2006, Anna was a Food and Society Policy Fellow with the Kellogg Foundation and serves on the board of directors for Rainforest Action Network. The co-author of Hope's Edge and Grub, Anna's third book, Eat the Sky: Food, Farming, and Climate Change will be published by Bloomsbury in 2010. She along with her mother Frances Moore Lappe is a co-founder of the Small Planet Institute (www.smallplanet.org) and Small Planet Fund (www.smallplanetfund.org). She lives in Brooklyn, NY. Frances Moore Lappe is the author of sixteen books, from Diet for a Small Planet in 1971 to Getting a Grip: Clarity, Creativity, and Courage in a World Gone Mad in 2007. Both were recommended as must-reads for the next president in a 2008 New York Times Book Review feature. She is co-founder of Food First, the Institute for Food and Development Policy; and, with her daughter Anna Lappe, of the Small Planet Institute (www.smallplanet.org) and Small Planet Fund (smallplanet.org). Gourmet magazine chose her as among "25 People Who Changed Food in America," and in 2008 she was named the James Beard Foundation's Humanitarian of the Year. In 1987, Frances received the Right Livelihood Award, often called the Alternative Nobel. She along with Anna Lappe is a co-founder of the Small Planet Institute (www.smallplanet.org) and Small Planet Fund (www.smallplanetfund.org). She lives in Boston, MA. John Mackey is the chief executive officer of Whole Foods Market (www.wholefoodsmarket.com), the nation's leading purveyor of natural and organic products. Regarded by many as one of North America's most innovative--and ethical--entrepreneurs, John's fierce sense of competition, strong belief in free market principles, staunch support for a decentralized and team-based structure, keen understanding of consumer trends, and endless supply of innovative ideas has helped build Whole Foods Market into a powerhouse. Today, more than 280 stores can be found in the United States, Canada, and the United Kingdom, all part of the mission of Whole Foods - Whole People - Whole Planet. He lives in Austin, TX. Danielle Nierenberg, M.S., serves as a senior researcher at the Worldwatch Institute. Her published work includes Happier Meals: Rethinking the Global Meat Industry (2005) and Global Farm Animal Production and Consumption: Impacting and Mitigating Climate Change (co-author, 2008), which was published in Environmental Health Perspectives, a scientific journal published by the National Institutes of Health. Her knowledge of factory farming and its global spread has been cited widely in the New York Times Magazine, the International Herald Tribune, the Washington Post, and other publications. Danielle worked for two years as a Peace Corps volunteer in the Dominican Republic and currently volunteers at farmers markets. She holds an M.S. in agriculture, food, and environment from Tufts University and a B.A. in environmental policy from Monmouth College. She lives in Africa. Meredith Niles is the Coordinator of the Cool Foods Campaign (www.coolfoodscampaign.org), a national initiative of the CornerStone Campaign and the Center for Food Safety, a non-profit public interest and environmental advocacy organization that challenges harmful food production technologies and promotes organic and other sustainable alternatives. Under her leadership, the Cool Foods Campaign educates consumers about the environmental impact of food choice on global warming and empowers individuals with the resources to decrease their "FoodPrint." Meredith writes extensively about agriculture, food, and climate change in a weekly guest column for Grist Environmental News and has contributed to National Public Radio, Environmental News Network and Political Affairs, among other outlets. Wayne Pacelle is the president and chief executive officer of The Humane Society of the United States (www.humanesociety.org), the nation's largest animal advocacy organization with 11 million members and constituents, founder of Humane USA, the non-partisan political arm of the animal protection movement, and founder of the Humane Society Legislative Fund, a 501(c)(4) social welfare organization that lobbies for animal welfare legislation and works to elect humane-minded candidates to public office. In 2007, The New York Times reported, "The arrival of Wayne Pacelle as head of the Humane Society in 2004 both turbo-charged the farm animal welfare movement and gave it a sheen of respectability." In 2008, Supermarket News included Mr. Pacelle on its annual Power 50 list of influential individuals in food marketing, writing that "there's no denying his growing influence on how animal agriculture is practiced in the United States." He lives in Washington, D.C. Julie Chavez Rodriguez is currently the Programs Director for the Cesar E. Chavez Foundation (www.chavezfoundation.org), a nonprofit charitable organization founded in 1993 by Cesar's family and friends to educate people about his life and work, and to engage all, particularly youth, to carry on his values and timeless vision for a better, more just world. Like her cousin Christine, Julie was born into the farm worker movement and learned at an early age the importance of civil rights and understood well the plight of working people. At the Foundation, Julie spearheads the educational and service programs, namely the Educating the Heart School Program and the Chavez After School Service Clubs. She is a Fellow in the National Service-Learning Emerging Leaders Initiative sponsored by the Kellogg Foundation, the National Service-Learning Partnership, and the National Youth Leadership Council. She co-authored, along with Anthony Welch, the "Martin Luther King, Jr. and Cesar E. Chavez: Legacies of Leadership and Inspiration for Today's Civic Education Issue Paper," published by the Education Commission of the States in September 2005. Like her grandfather, Julie believes that "the end of all education should surely be service to others." She lives in Los Angeles, CA. Paul and Phyllis Willis have dedicated their lives to promoting--and practicing--more responsible farming practices that not only benefit the welfare of animals and the integrity of the environment, but help sustain our rural communities. Paul is described by Peter Kaminsky in his book Pig Perfect as "among the most influential of a very few who are employing modern business practices in the service of traditional agriculture." He serves as the Manager of Niman Ranch Pork Company (www.nimanranch.com) and is the owner and operator of the Willis Free Range Pig Farm in Thornton, Iowa. Due to his expertise, he is a member of the committee convened by the National Academy of Sciences to undertake the 21st Century Systems Agriculture Project, which studies the science and policies that influence the adoption of farming practices and management systems designed to reduce the costs and environmental effects of agricultural production. Phyllis, a community activist, has hosted hundreds of guests at their farm for food and conversation, and has worked tirelessly to prevent the expansion and development of industrial factory farms. They both live in Thorton, IA.
or
Not Currently Available for Direct Purchase