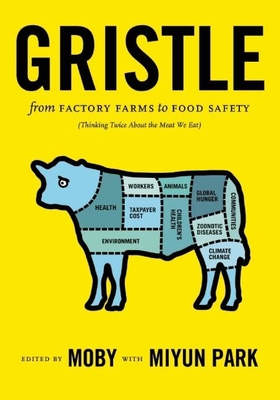 Gristle
From Factory Farms to Food Safety (Thinking Twice about the Meat We Eat)
Paperback

* Individual store prices may vary.
Description
An information-packed, lively, and informative little guide, Gristle is the first stop for everyone who wants to make informed choices about the food they consume. Multi-platinum musician Moby brings together ten of the country's leading foodies, policymakers, food-business leaders, and food activists, who lay out how and why the over-consumption of industrially produced meat unnecessarily harms agricultural workers, communities, the environment, and human health--as well as animals. Contributors include Moby, Brendan Brazier, Lauren Bush, John Mackey, Wayne Pacelle, Gowri Koneswaran and Meredith Niles, Sara Kubersky and Tom O'Hagan, Christine Chavez and Julie Chavez Rodriguez, Paul and Phyllis Willis, Michael Greger, M.D., Frances Moore Lapp and Anna Lapp , and Miyun Park (detaild bios below).
New Press, 9781595581914, 160pp.
Publication Date: April 6, 2010