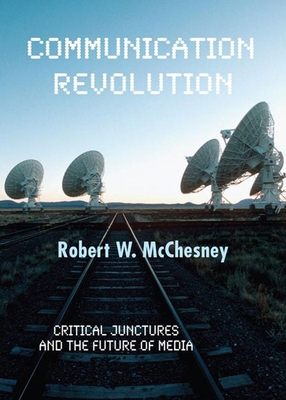 Communication Revolution (Hardcover)
Critical Junctures and the Future of Media
New Press, 9781595582072, 301pp.
Publication Date: October 30, 2007
Other Editions of This Title:
Paperback (12/1/2008)
* Individual store prices may vary.
Description
In Communication Revolution--both a sharp and cogent analysis of the history of media studies and a clarion call for citizen participation--Robert McChesney argues that with the Internet and wireless technology set to overtake traditional media, we have a once-in-a-lifetime chance to build a more egalitarian communication system. He brilliantly shows how communication scholarship has failed to rise to the challenge of conceiving what this system might look like, leaving it to the burgeoning media reform movement (in which he has been a key player) to fill the vision vacuum.
Bringing both his authoritative analysis and unparalleled historical knowledge to bear on an urgent issue of our time, McChesney challenges us to transform the way we think about media. As Noam Chomsky has said, "Robert McChesney's work has been of extraordinary importance. . . . It should be read with care and concern by people who care about freedom and basic rights."
About the Author
Robert W. McChesney is the Gutgsell Endowed Professor in the Department of Communication at the University of Illinois at Urbana-Champaign. He is the author of several books on the media, including Digital Disconnect, Communication Revolution, and the award-winning Rich Media, Poor Democracy; a co-author, with John Nichols, of Tragedy and Farce; and a co-editor, with Ben Scott, of Our Unfree Press, and, with Victor Pickard, of Will the Last Reporter Please Turn Out the Lights (all published by The New Press). He lives in Champaign, Illinois.