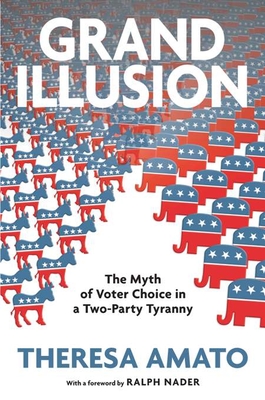 Grand Illusion
The Fantasy of Voter Choice in a Two-Party Tyranny
Hardcover

* Individual store prices may vary.
Other Editions of This Title:
Paperback, Large Print, Large Print (8/1/2010)
Description
As the national campaign manager for Ralph Nader's historic runs for president in 2000 and 2004, Theresa Amato had a rare ringside role in two of the most hotly contested presidential elections this country has seen. In Grand Illusion, she gives us a witty, thoughtful critique of the American electoral system, as well as a powerful argument for opening up the contest to competition. Busting the national myth that "anyone can grow up and be President of the United States," Amato shows how independent and third-party candidates face egregious structural barriers that prevent them from fully participating in the race or even getting their names on the ballot. In addition to waging effective voter campaigns, these candidates must simultaneously fend off preposterous numbers of legal challenges from the two major parties--during twelve weeks of Nader's '04 run, as many as twenty-five lawsuits were filed in an effort to squash his campaign. Amato makes a powerful case for specific federal reforms in the United States' arcane system of ballot access laws, complex regulations, and partisan control of elections. Along the way, she also offers a spirited history of how third-party and Independent candidates have kept important issues on the table in elections past and contribute to our political life as a society. Despite the dramatic run-up to the historic 2008 election and the efforts of both Obama and McCain to set themselves apart, the national political debate occurs in a very narrow range that's defined by two major parties, which are both influenced by the same corporations, special interest groups, and lobbyists. And on election day, there just aren't the kinds of genuine options that a healthy, multi-party democracy should offer. Looking beyond the Nader story to campaigns waged by challengers John Anderson, Ross Perot, Pat Buchanan, and others, Amato shows how limiting ourselves to two candidates deprives our country of a robust political life, strips would-be contenders of their First Amendment rights, and cheats voters out of meaningful political choice.

Praise For Grand Illusion: The Fantasy of Voter Choice in a Two-Party Tyranny…
"Until you have run, as I did, outside the two major parties, it is impossible to imagine the injustices of the two-party-tilted electoral process. Theresa Amato masterfully exposes the horrors faced by third-party and Independent candidates seeking the chance to compete and provide political choices for the American voter."
—John Anderson, former Independent presidential candidate and chair of the Center for Voting and Democracy

"Theresa Amato takes the biggest swing--not a jab, but a roundhouse punch--at America's corrupt electoral system."
—Phil Donahue
New Press, 9781595583949, 379pp.
Publication Date: June 9, 2009
About the Author
Theresa Amato was the national presidential campaign manager and in-house counsel for Ralph Nader in both 2000 and 2004. A graduate of Harvard University and NYU School of Law, she founded the Citizen Advocacy Center in suburban Chicago and works with many nonprofit organizations. She has been a fellow at Harvard's Institute of Politics at the John F. Kennedy School of Government and a Wasserstein Public Interest Law Fellow at Harvard Law School. A practicing lawyer, Amato lives with her family in Oak Park, Illinois.
or
Not Currently Available for Direct Purchase