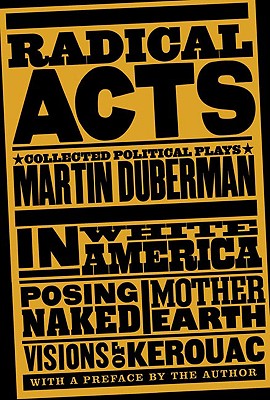 Radical Acts (Paperback)
Collected Political Plays
New Press, 9781595584076, 296pp.
Publication Date: September 16, 2008
* Individual store prices may vary.
Description
Four inspiring, bold political plays that bring history alive as theater, from the Bancroft Prize-winning historian, cultural critic, and public intellectual.
BR>""Martin Duberman occupies a singularly important place in American culture.""--Catharine R. Stimpson, Dean and University Professor, NYU
Best known for his acclaimed biographies of Paul Robeson and Lincoln Kirstein and his provocative books about the gay rights movement, Martin Duberman has also had a long-standing involvement with the theater that began early in his career, when his drama criticism appeared in the "Partisan Review" and "Harper'sThis volume includes four plays: "In White America," about the black struggle for freedom and human rights, which became a smash hit and was named the 1963 Best Off-Broadway production of the year; "Mother Earth," which brings to vivid life Emma Goldman, one of the twentieth century's most famous revolutionaries; "Posing Naked," the heartbreaking story of Smith College professor Newton Arvin, the most prominent (closeted) gay literary critic of his day; and "Visions of Kerouac," which captures the beat era--from Kerouac's ambition-filled early years, crisscrossing the country with pals like Allen Ginsberg and William Burroughs, to the later years of isolation and alcoholism. This paperback edition makes these four politically charged plays available to a new generation.
or
Not Currently Available for Direct Purchase