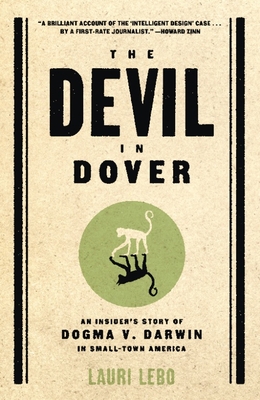 The Devil in Dover (Paperback)
An Insider's Story of Dogma v. Darwin in Small-Town America
New Press, 9781595584519, 238pp.
Publication Date: March 24, 2009
Other Editions of This Title:
Hardcover (5/13/2008)
* Individual store prices may vary.
Description
Local newspaper reporter Lauri Lebo was handed the story of a lifetime when the Dover (Pennsylvania) School Board adopted a measure to require its ninth-grade biology students to learn about intelligent design. In a case that recalled the famed 1925 Scopes "monkey" trial and made international headlines, eleven parents sued the school board. When the case wound up in federal court before a George W. Bush-appointed judge, Lebo had a front-row seat.
Destined to become required reading for a generation of journalists, scientists, and science teachers, as well as for anyone concerned about the separation of church and state, The Devil in Dover is Lebo's widely praised account of a perfect storm of religious intolerance, First Amendment violations, and an assault on American science education. Lebo skillfully probes the compelling background of the case, introducing us to the plaintiffs, the defendants, the lawyers, and a parade of witnesses, along with Judge John E. Jones, who would eventually condemn the school board's decision as one of "breathtaking inanity."
With the antievolution battle having moved to the state level--and the recent passage of state legislation that protects the right of schools to teach alternatives to evolution--the story will continue to be relevant for years to come.
About the Author
Lauri Lebo has been a journalist for twenty years. As part of an investigative reporting team, she helped solve two civil rights-era murders. As the York Daily Record's education reporter, she covered the intelligent design trial from its earliest beginnings at local school board meetings. Her book on the trial, The Devil in Dover: An Insider's Story of Dogma v. Darwin in Small-Town America, was The New Press's first Studs and Ida Terkel Author Fund book. The winner of numerous state and national awards, Lebo lives in Harrisburg, Pennsylvania.
or
Not Currently Available for Direct Purchase