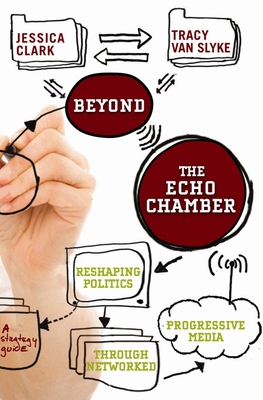 Beyond the Echo Chamber (Paperback)
How a Networked Progressive Media Can Reshape American Politics
New Press, 9781595584717, 226pp.
Publication Date: January 1, 2010
* Individual store prices may vary.
Description
In less than a decade, a new breed of networked progressive media--from Brave New Films to Talking Points Memo to Feministing and beyond--have informed and engaged millions. By harnessing a participatory media environment, they have succeeded in influencing political campaigns, public debates, and policymaking at unprecedented levels. In Beyond the Echo Chamber, media experts Jessica Clark and Tracy Van Slyke tell the story of the recent rise of progressive media and lay out a clear, hard-hitting theory of ongoing impact. A vital strategic guide based on years of research and extensive interviews with key media players and new media experts, Beyond the Echo Chamber will change the national conversation about progressive media and the future of journalism itself. For progressive journalists, bloggers, producers, activists, readers, and policymakers committed to change, here is a first-ever roadmap to victory.

About the Author
Jessica Clark is the research director at American University's Center for Social Media and the former executive editor at In These Times. Her twitter is: @samizdata. Tracy Van Slyke is the director of The Media Consortium and is the former publisher of In These Times. Her twitter is @tracyvs. Follow them online at beyondtheecho.net.
Praise For Beyond the Echo Chamber: How a Networked Progressive Media Can Reshape American Politics…
From he-media' to we-media,' Van Slyke and Clark document the shift from a media universe dominated by a few grim men to one in which progressive media can experiment, collaborate, report, and have real impact."
— Laura Flanders, Host of GRITtv and author of Blue Grit

Beyond the Echo Chamber tells one of the great untold stories of this decade: the evolution of an entirely new (and newly powerful) progressive media. . . . It's a must read for media practitioners, consumers, and progressives of all stripes."
— Christopher Hayes, Washington editor of The Nation and a fellow at the New America Foundation

[This book] takes us beyond the usual ideas about political media, message, and movement building . . . empowering people to break out of conventional wisdom about politics and media and really start making their own change."
— Mike Lux, co-founder and CEO, Progressive Strategies

An inspiring inside guideas current as this morning's blog postto progressive media successes in the Net era: exposing corruption, slaying politicians, activating communities, moving Congress, turning elections."
— Jeff Cohen, director of the Park Center for Independent Media at Ithaca College
or
Not Currently Available for Direct Purchase