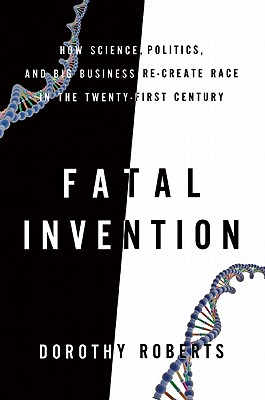 Fatal Invention
How Science, Politics, and Big Business Re-Create Race in the Twenty-First Century
Hardcover

* Individual store prices may vary.
Other Editions of This Title:
Digital Audiobook (6/1/2020)
Paperback (9/1/2012)
MP3 CD (6/2/2020)
Compact Disc (6/2/2020)
Description
A decade after the Human Genome Project proved that human beings are not naturally divided by race, the emerging fields of personalized medicine, reproductive technologies, genetic genealogy, and DNA databanks are attempting to resuscitate race as a biological category written in our genes. In this provocative analysis, leading legal scholar and social critic Dorothy Roberts argues that America is once again at the brink of a virulent outbreak of classifying population by race. By searching for differences at the molecular level, a new race-based science is obscuring racism in our society and legitimizing state brutality against communities of color at a time when America claims to be post-racial.

Moving from an account of the evolution of raceproving that it has always been a mutable and socially defined political division supported by mainstream scienceRoberts delves deep into the current debates, interrogating the newest science and biotechnology, interviewing its researchers, and exposing the political consequences obscured by the focus on genetic difference. Fatal Invention is a provocative call for us to affirm our common humanity.
Praise For Fatal Invention: How Science, Politics, and Big Business Re-Create Race in the Twenty-First Century…
Starred Review. Roberts, a lawyer and sociology professor, examines the development and contemporary consequences of "race as a political system," bringing science, law, commerce, and race ideologies, virtual thickets of controversy, under one canopy. After demonstrating how, historically, "race was literally manufactured by law," and offering an admirably intelligible account of genomic theory, she considers the extent to which the new approaches "tend to merely repackage race as a genetic category rather than replace it." DNA becomes a "marketable commodity," one consequence being that "race soon became the linchpin for turning the vision of tomorrow's personalized medicine into today's profit-making drugs." As she assesses the "new biopolitics of race," she argues that "Race-based medicine gives people a morally acceptable reason to hold onto their belief in intrinsic racial difference." While "pharmacogenomics," "epigenetic," and "allele" are not in most of our conversations, and while the specialized journals Roberts has made germane use of, for support or to controvert, are not most readers' regular stuff, Roberts is consistently lucid. Her book is alarming but not alarmist, controversial but evidential, impassioned but rational.
Publishers Weekly

Fatal Invention is an eye-opening, urgent, and ultimately inspiring exposé of the new racial science. Essential reading." Danny Glover

Roberts has issued a compelling and provocative warning: our freedoms are threatened by a new biopolitics that reinforces a false concept of race and turns us into biocitizens' whose DNA can be exploited both by the government and big business. Everyone concerned about social justice in America should read this powerful book."
Anthony D. Romero, Executive Director, American Civil Liberties Union

Race, like Freddy Krueger, keeps coming back after we believe we kill it. In this masterful book Roberts cogently shows that race has been rearticulated in perhaps more pernicious ways in medicine, biotechnology, and social policies. A terribly important book on how the fatal invention' has terrifying effects in the post-genomic, post-racial' era."
Eduardo Bonilla-Silva, professor of sociology, Duke University, and author of Racism Without Racists: Color-Blind Racism and the Persistence of Racial Inequality in the United States

Fatal Invention is a triumph! Race has always been an ill-defined amalgam of medical and cultural bias, thinly overlaid with the trappings of contemporary scientific thought. And no one has peeled back the layers of assumption and deception as lucidly as Dorothy Roberts."
Harriet A. Washington, author of Medical Apartheid: The Dark History of Medical Experimentation on Black Americans from Colonial Times to the Present and Deadly Monopolies: The Shocking Corporate Takeover of Life Itself
New Press, 9781595584953, 388pp.
Publication Date: July 5, 2011
About the Author
Dorothy Roberts is the fourteenth Penn Integrates Knowledge Professor at the University of Pennsylvania, where she is the George A. Weiss University Professor of Law and Sociology and the inaugural Raymond Pace and Sadie Tanner Mossell Alexander Professor of Civil Rights. She is the author of the award-winning "Killing the Black Body" and "Shattered Bonds" and is the co-editor of six books on gender and constitutional law. She serves as chair of the board of directors of the Black Women's Health Imperative.
or
Not Currently Available for Direct Purchase