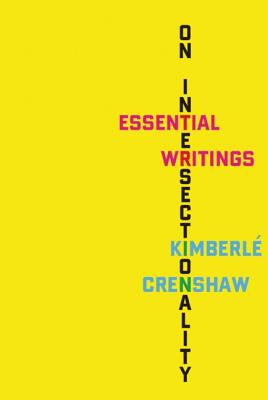 On Intersectionality
The Essential Writings of Kimberle Crenshaw
Paperback

* Individual store prices may vary.
Other Editions of This Title:
Hardcover (12/6/2022)
Paperback (5/29/2018)
Description
Over the past twenty years, the concept of "intersectionality" has emerged as an influential approach to understanding the complex facets of discrimination and exclusion in a society whose members—with often complex racial, gender, or sexual identities—can experience bias in multiple ways.

In this incisive introduction to Crenshaw's groundbreaking work, readers will find the key essays and articles that have defined the concept of intersectionality collected together for the first time. Crenshaw explores how a holistic analysis of discrimination gives rise to a more nuanced understanding of salient social forces. This long-awaited volume examines the Central Park jogger case, Alice Walker's The Color Purple, LGBT activism, Anita Hill's testimony against Clarence Thomas, and other significant matters of public interest. In each case, her analysis challenges and exposes the intricate social dynamics among individuals and groups whose identities are increasingly layered.

This new account covers the evolution of the meaning of intersectionality over the course of two decades and how this concept has radically changed the face of social justice activism. On Intersectionality is compulsory reading from one of the most brilliant critical race theorists of our time.
Praise For On Intersectionality: The Essential Writings of Kimberle Crenshaw…
I want Kimberlé Crenshaw at the center of public conversation because her mapping of the margins is a powerful contribution to the world of ideas. Imagine the world we might have if we all took a few moments to engage her ideas.
—Melissa Harris-Lacewell, Associate Professor of Politics and African American Studies, Princeton University
New Press, The, 9781595587046, 320pp.
Publication Date: February 1, 2014
About the Author
Kimberle Crenshaw is a professor of law at UCLA and Columbia Law School. A leading authority on civil rights, black feminist legal theory, and racism and the law, she is a co-editor of "Critical Race Theory" (The New Press). Crenshaw is a contributor to "Ms. Magazine," "The Nation," and the "Huffington Post." She lives in Los Angeles.
or
Not Currently Available for Direct Purchase