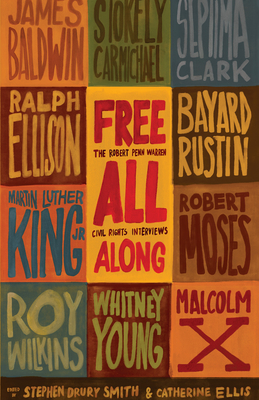 Free All Along (Hardcover)
The Robert Penn Warren Civil Rights Interviews
New Press, 9781595588180, 352pp.
Publication Date: January 15, 2019
* Individual store prices may vary.
Description
"This is an expression not of people who are suddenly freed of something, but people who have been free all along." --Ralph Ellison, speaking with Robert Penn Warren
A stunning collection of previously unpublished interviews with key figures of the black freedom struggle by the Pulitzer Prize-winning author
In 1964, in the height of the civil rights movement of the 1960s, Pulitzer Prize-winning author and poet Robert Penn Warren set out with a tape recorder to interview leaders of the civil rights movement. He spoke with luminaries such as James Baldwin, Martin Luther King Jr., Stokely Carmichael, Ralph Ellison, and Roy Wilkins. In Harlem, a fifteen-minute appointment with Malcolm X unwound into several hours of vivid conversation.
A year later, Penn Warren would publish Who Speaks for the Negro?, a probing narrative account of these conversations that blended his own reflections with brief excerpts and quotations from his interviews. Astonishingly, the full extent of the interviews remained in the background and were never published.
The large collection of audiotapes of Penn Warren's conversations remained unknown to the public until rediscovered by scholars in recent years. Free All Along brings to life these vital historic voices of America's civil rights generation, including writers, political activists, religious leaders, and intellectuals.
A major contribution in their own right to our understanding of the struggle for civil rights, these remarkable long-form interviews are presented here as original documents with pressing relevance today.
About the Author
Stephen Drury Smith is the executive editor and host of APM Reports&reg, the acclaimed documentary unit of American Public Media. He lives in St. Paul, Minnesota. Catherine Ellis is an award-winning broadcast and podcast journalist, and the founder of Audio Memoir. Ellis holds a PhD in anthropology from Columbia University, where her research compared the way whites and African Americans in Louisiana remember the Jim Crow era. She lives in Boston, Massachusetts. They are both co-editors of Say It Plain: A Century of Great African American Speeches, and Say It Loud: Great Speeches on Civil Rights and African American Identity and (with Mary Marshall Clark and Peter Bearman) of After the Fall: New Yorkers Remember September 2001 and the Years That Followed, all published by The New Press.