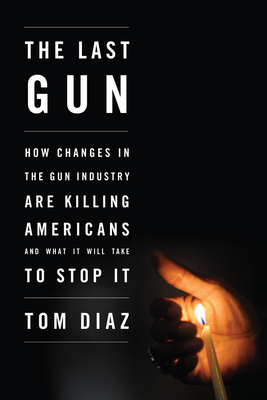 The Last Gun: How Changes in the Gun Industry Are Killing Americans and What It Will Take to Stop It (Hardcover)
How Changes in the Gun Industry Are Killing Americans and What It Will Take to Stop It
New Press, 9781595588302, 319pp.
Publication Date: April 2, 2013
Description
Newtown, Connecticut. Aurora, Colorado. Both have entered our collective memory as sites of unimaginable heartbreak and mass slaughter perpetrated by lone gunmen. Meanwhile, cities such as Chicago and Washington, D.C., are dealing with the painful, everyday reality of record rates of gun-related deaths. By any account, gun violence in the United States has reached epidemic proportions.
A widely respected activist and policy analyst as well as a former gun enthusiast and an ex-member of the National Rifle Association Tom Diaz presents a chilling, up-to-date survey of the changed landscape of gun manufacturing and marketing. The Last Gun explores how the gun industry and the nature of gun violence have changed, including the disturbing rise in military-grade gun models. But Diaz also argues that the once formidable gun lobby has become a "paper tiger," marshaling a range of evidence and case studies to make the case that now is the time for a renewed political effort to attack gun violence at its source the guns themselves.
In the aftermath of Newtown, a challenging national conversation lies ahead. The Last Gun is an indispensable guide to this debate, and essential reading for anyone who wants to understand how we can finally rid America's streets, schools, and homes of gun violence and prevent future Newtowns.
About the Author
Tom Diaz is a writer, lawyer, and public speaker on the gun industry and gun control issues. Formerly a senior policy analyst at the Violence Policy Center, he has been featured on MSNBC, on NPR, and in other national media. His books include "Making a Killing: The Business of Guns in America" (The New Press), and he is currently working on a book about his family and American immigration policy. He lives in Washington, D.C.
Advertisement