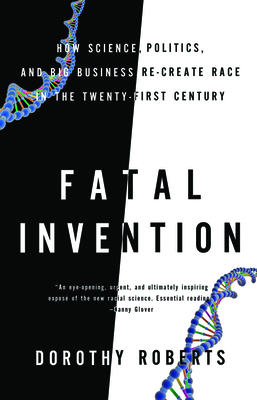 Fatal Invention
How Science, Politics, and Big Business Re-Create Race in the Twenty-First Century
Paperback

* Individual store prices may vary.
Other Editions of This Title:
Digital Audiobook (6/1/2020)
MP3 CD (6/2/2020)
Compact Disc (6/2/2020)
Description
An incisive, groundbreaking book that examines how a biological concept of race is a myth that promotes inequality in a supposedly "post-racial" era. Though the Human Genome Project proved that human beings are not naturally divided by race, the emerging fields of personalized medicine, reproductive technologies, genetic genealogy, and DNA databanks are attempting to resuscitate race as a biological category written in our genes. This groundbreaking book by legal scholar and social critic Dorothy Roberts examines how the myth of race as a biological concept--revived by purportedly cutting-edge science, race-specific drugs, genetic testing, and DNA databases--continues to undermine a just society and promote inequality in a supposedly "post-racial" era. Named one of the ten best black nonfiction books 2011 by AFRO.com, Fatal Invention offers a timely and "provocative analysis" (Nature) of race, science, and politics that "is consistently lucid . . . alarming but not alarmist, controversial but evidential, impassioned but rational" (Publishers Weekly, starred review). "Everyone concerned about social justice in America should read this powerful book." --Anthony D. Romero, executive director, American Civil Liberties Union "A terribly important book on how the 'fatal invention' has terrifying effects in the post-genomic, 'post-racial' era." --Eduardo Bonilla-Silva, professor of sociology, Duke University, and author of Racism Without Racists: Color-Blind Racism and the Persistence of Racial Inequality in the United States "Fatal Invention is a triumph Race has always been an ill-defined amalgam of medical and cultural bias, thinly overlaid with the trappings of contemporary scientific thought. And no one has peeled back the layers of assumption and deception as lucidly as Dorothy Roberts." --Harriet A. Washington, author of and Deadly Monopolies: The Shocking Corporate Takeover of Life Itself

Praise For Fatal Invention: How Science, Politics, and Big Business Re-Create Race in the Twenty-First Century…
This is the best book of the year. If you read one work of nonfiction a year, make this the one. New York Journal of Books

Fatal Invention is an eye-opening, urgent, and ultimately inspiring expos of the new racial science. Essential reading. Danny Glover

A vitally important book a massive achievement. Race and the Law

Like a chess grandmaster, Roberts devastatingly counters any argument that can be made for a racial view of genetics. The Brooklyn Rail

Im still grappling with how important this book is. A definite must read. Feministing

Thought-provoking, well-researched, [and] insightful. Choice

This fascinating book is a must-read for those looking for an enlightened discussion of race in the 21st century. Library Journal

This book meets an urgent need. [A] herculean effort in fleshing out the biopolitics of race. Biopolitical Times

A major, groundbreaking assessment of race and bioethics. Midwest Book Review

Alarming but not alarmist, controversial but evidential, impassioned but rational. Publishers Weekly, starred review
New Press, 9781595588340, 400pp.
Publication Date: September 1, 2012
About the Author
Dorothy Roberts is the fourteenth Penn Integrates Knowledge Professor at the University of Pennsylvania, where she is a George A. Weiss University Professor of Law and Sociology and the inaugural Raymond Pace and Sadie Tanner Mossell Alexander Professor of Civil Rights. She is the author of the award-winning Killing the Black Body and Shattered Bonds and is the co-editor of six books on gender and constitutional law. She serves as chair of the board of directors of the Black Women's Healthy Imperative and lives in Evanston, Illinois.