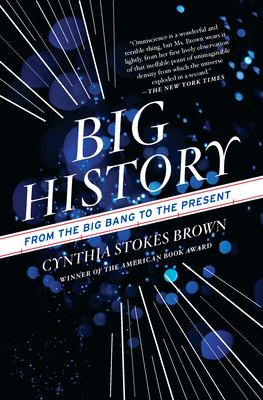 Big History (Paperback)
From the Big Bang to the Present
New Press, 9781595588487, 288pp.
Publication Date: November 6, 2012
* Individual store prices may vary.
Description
Extend the human story backward for the five thousand years of recorded history and it covers no more than a millionth of a lifetime of the Earth. Yet how do we humans take stock of the history of our planet, and our own place within it? A "vast historical mosaic" (Publishers Weekly) rendered engaging and accessible, Big History interweaves different disciplines of knowledge to offer an all-encompassing account of history on Earth. Since its publication, Cynthia Brown's "world history on a grand scale" (Kirkus) has been translated into nine languages and has helped propel the "big history" concept to viral status. This new edition of Brown's seminal work is more relevant today than ever before, as we increasingly must grapple with accelerating rates of change and, ultimately, the legacy we will bequeath to future generations. Here is a pathbreaking portrait of our world, from the birth of the universe from a single point the size of an atom to life on a twenty-first-century planet inhabited by 7 billion people.
About the Author
Cynthia Stokes Brown is a retired professor of education at Dominican University of California. She has written works of history and biography, including the American Book Award-winning Ready from Within: Septima Clark and the Civil Rights Movement, Connecting with the Past, and Refusing Racism. She lives in Berkeley, California.