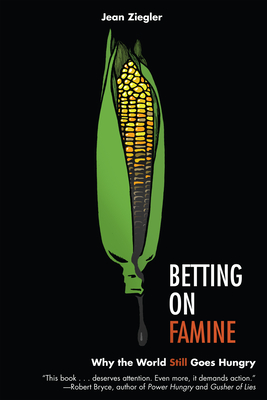 Betting on Famine (Hardcover)
Why the World Still Goes Hungry
New Press, 9781595588494, 286pp.
Publication Date: August 6, 2013
* Individual store prices may vary.
Description
Few know that world hunger was very nearly eradicated in our lifetimes. In the past five years, however, widespread starvation has suddenly reappeared, and chronic hunger is a major issue on every continent. In an extensive investigation of this disturbing shift, Jean Ziegler--one of the world's leading food experts--lays out in clear and accessible terms the complex global causes of the new hunger crisis. Ziegler's wide-ranging and fascinating examination focuses on how the new sustainable revolution in energy production has diverted millions of acres of corn, soy, wheat, and other grain crops from food to fuel. The results, he shows, have been sudden and startling, with declining food reserves sending prices to record highs and a new global commodities market in ethanol and other biofuels gobbling up arable lands in nearly every continent on earth. Like Raj Patel's pathbreaking Stuffed and Starved, Betting on Famine will enlighten the millions of Americans concerned about the politics of food at home--and about the forces that prevent us from feeding the world's children.

About the Author
From 2000 to 2008 Jean Ziegler was the UN Special Rapporteur on the Right to Food. Formerly a member of the Swiss Parliament, Ziegler is the author of numerous books, including "The Swiss, the Gold and the Dead," which details the role of Swiss banks in illegally holding the dormant bank accounts of Jewish victims of the Holocaust. He lives in Switzerland. Christopher Caines is the translator of "World War II: The Unseen Visual History." His original essays have appeared in several periodicals, scholarly reference works, and anthologies, including "Reading Dance." Caines lives in New York City.
or
Not Currently Available for Direct Purchase