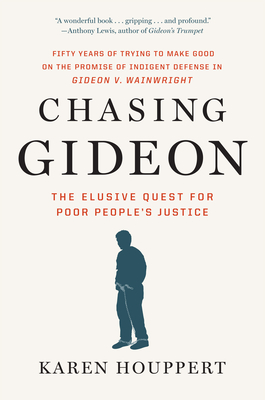 Chasing Gideon
The Elusive Quest for Poor People's Justice
Hardcover

* Individual store prices may vary.
Description
On March 18, 1963, in one of its most significant legal decisions, the U.S. Supreme Court unanimously ruled in Gideon v. Wainwright that all defendants facing significant jail time have the constitutional right to a free attorney if they cannot afford their own. Fifty years later, 80 percent of criminal defendants are served by public defenders. In a book that combines the sweep of history with the intimate details of individual lives and legal cases, veteran reporter Karen Houppert movingly chronicles the stories of people in all parts of the country who have relied on Gideon's promise. There is the harrowing saga of a young man who is charged with involuntary vehicular homicide in Washington State, where overextended public defenders juggle impossible caseloads, forcing his defender to go to court to protect her own right to provide an adequate defense. In Florida, Houppert describes a public defender's office, loaded with upward of seven hundred cases per attorney, and discovers the degree to which Clarence Earl Gideon's promise is still unrealized. In New Orleans, she follows the case of a man imprisoned for twenty-seven years for a crime he didn't commit, finding a public defense system already near collapse before Katrina and chronicling the harrowing months after the storm, during which overworked volunteers and students struggled to get the system working again. In Georgia, Houppert finds a mentally disabled man who is to be executed for murder, despite the best efforts of a dedicated but severely overworked and underfunded capital defender. Half a century after Anthony Lewis's award-winning Gideon's Trumpet brought us the story of the court case that changed the American justice system, Chasing Gideon is a crucial book that provides essential reckoning of our attempts to implement this fundamental constitutional right.

New Press, 9781595588692, 275pp.
Publication Date: March 19, 2013
About the Author
Karen Houppert was a contributing writer at the Washington Post Magazine for many years. Her work has appeared in The Nation, Newsday, the New York Times, Mother Jones, the Village Voice, Salon, and many other publications. She is the author of two other books: Home Fires Burning: Married to the Military--for Better or Worse and The Curse: Confronting the Last Taboo, Menstruation. She lives in Baltimore, Maryland, where she teaches in the MA in Writing Program at Johns Hopkins University and is on the journalism faculty of Morgan State University.
or
Not Currently Available for Direct Purchase