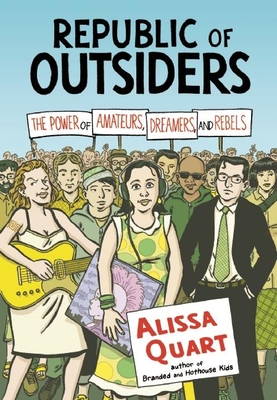 Republic of Outsiders
The Power of Amateurs, Dreamers, and Rebels
Hardcover

* Individual store prices may vary.
Other Editions of This Title:
Paperback (10/1/2014)
MP3 CD (6/28/2016)
Description
Republic of Outsiders is about the growing number of Americans who disrupt the status quo: outsiders who seek to redefine a wide variety of fields, from film and mental health to diplomacy and music, from how we see gender to what we eat. They include professional and amateur filmmakers crowd-sourcing their work, transgender and autistic activists, and Occupy Wall Street's "alternative bankers." These people create and package new identities in a practice cultural critic Alissa Quart dubs "identity innovation" they push the boundaries of who they can be and what they can do, even turning the forces of co-optation to their benefit. In a brilliant and far-reaching account, Quart introduces us to individuals who have created new structures to keep themselves sane, fulfilled, and, on occasion, paid. This deeply reported book shows how and why these groups now gather, organize, and create new communities and economies. Without a middleman, freed of established media, and highly mobile, unusual ideas and cultures are able to spread more quickly and find audiences and allies. Republic of Outsiders is a critical examination of those for whom being rebellious, marginal, or amateur is a source of strength rather than weakness.

New Press, 9781595588753, 199pp.
Publication Date: August 6, 2013
About the Author
Alissa Quart is the author of "Branded" and "Hothouse Kids." She is the senior editor of The Atavist, a nonfiction publisher for the e-reader, and an adjunct professor at Columbia University's Journalism School. She has written for the "New York Times Magazine," "The Atlantic," and many other places and writes a cultural column for "Columbia Journalism Review." She lives in New York.