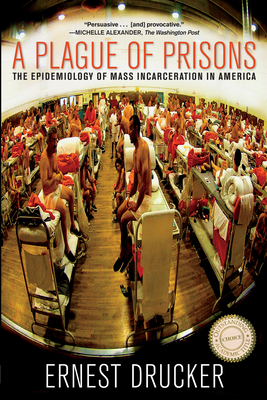 A Plague of Prisons (Paperback)
The Epidemiology of Mass Incarceration in America
New Press, 9781595588791, 258pp.
Publication Date: May 28, 2013
Other Editions of This Title:
Hardcover (8/30/2011)
* Individual store prices may vary.
Description
When Dr. John Snow first traced an outbreak of cholera to a water pump in the Soho district of London in 1854, the field of epidemiology was born. Ernest Drucker's A Plague of Prisons takes the same concepts and tools of public health that have successfully tracked epidemics of flu, tuberculosis, and AIDS to make the case that our current unprecedented level of imprisonment has become an epidemic. Drucker passionately argues that imprisonment--originally conceived as a response to the crimes of individuals--has become mass incarceration: a destabilizing force, a plague upon our body politic, that undermines families and communities, damaging the very social structures that prevent crime. Described as a "towering achievement" (Ira Glasser) and "the clearest and most intelligible case for a reevaluation of how we view incarceration" (Spectrum Culture), A Plague of Prisons offers a cutting-edge perspective on criminal justice in twenty-first-century America that "could help to shame the U.S. public into demanding remedial action" (The Lancet).

About the Author
Ernest Drucker is a scholar in residence and senior research associate at John Jay College of Criminal Justice, City University of New York. He is professor emeritus of family and social medicine at Montefiore Medical Center/Albert Einstein College of Medicine and adjunct professor of epidemiology at Columbia University's Mailman School of Public Health. He lives in New York City.
Praise For A Plague of Prisons: The Epidemiology of Mass Incarceration in America…
"With voluminous data and meticulous analysis, [Drucker] persuasively demonstrates in his provocative new book that the unprecedented surge in incarceration in recent decades is a social catastrophe on the scale of the worst global epidemics."
Michelle Alexander, The Washington Post

"How did America's addiction to prisons and mass incarceration get its start and how did it spread from state to state? Of the many attempts to answer this question, none make as much sense as the explanation found in [this] book." Philadelphia Inquirer

"Drucker uses the tools of his trade to examine the laws and their consequences...Treating drug addiction as a public-health problem rather than a crime to be punished would go a long way towards making America's poor and minority communities stabler and better."
The Economist

"Wonderfully written and packed with insight."
Todd Clear, dean of the Rutgers University School of Criminal Justice