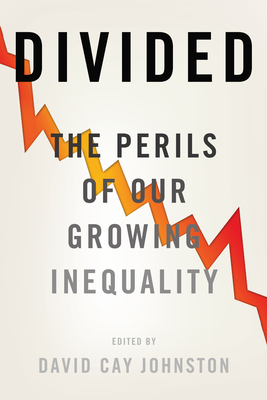 Divided (Hardcover)
The Perils of Our Growing Inequality
New Press, 9781595589231, 324pp.
Publication Date: April 1, 2014
* Individual store prices may vary.
Description
The issue of inequality has irrefutably returned to the fore, riding on the anger against Wall Street following the 2008 financial crisis and the concentration of economic and political power in the hands of the super-rich. The Occupy movement made the plight of the 99 percent an indelible part of the public consciousness, and concerns about inequality were a decisive factor in the 2012 presidential elections. How bad is it? According to Pulitzer Prize-winning journalist David Cay Johnston, most Americans, in inflation-adjusted terms, are now back to the average income of 1966. Shockingly, from 2009 to 2011, the top 1 percent got 121 percent of the income gains while the bottom 99 percent saw their income fall. Yet in this most unequal of developed nations, every aspect of inequality remains hotly contested and poorly understood. Divided collects the writings of leading scholars, activists, and journalists to provide an illuminating, multifaceted look at inequality in America, exploring its devastating implications in areas as diverse as education, justice, health care, social mobility, and political representation. Provocative and eminently readable, here is an essential resource for anyone who cares about the future of America--and compelling evidence that inequality can be ignored only at the nation's peril.

About the Author
David Cay Johnston is an investigative journalist and author, a specialist in economics and tax issues, and the winner of the 2001 Pulitzer Prize for Beat Reporting for uncovering loopholes and inequities in the U.S. tax code. He is the president of Investigative Reporters & Editors and the author of the bestselling "Perfectly Legal" and "The Fine Print."