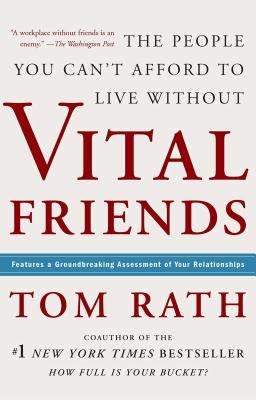 Vital Friends (Hardcover)
The People You Can't Afford to Live Without
Gallup Press, 9781595620071, 240pp.
Publication Date: August 1, 2006
* Individual store prices may vary.
Description
#1 New York Times bestselling author Tom Rath delivers a fascinating read that will change the way you look at your family, friends, coworkers, and significant other.

What's the quickest way to ruin a friendship? Can bosses actually learn something from marriages? Are very close friendships in the workplace such a bad thing?

These are just a few of the questions that #1 New York Times bestselling author Tom Rath asked when he embarked on a massive study of friendships. Along with several leading researchers, Rath pored through the literature, conducted several experiments, and analyzed more than 5 million interviews from The Gallup Organization's worldwide database.

His team's discoveries produced Vital Friends, a book that challenges long-held assumptions people have about their relationships. And the team's landmark discovery — that people who have a "best friend at work" are seven times as likely to be engaged in their job — is sure to rattle the structure of organizations around the world.

Drawing on research and case studies from topics as diverse as marriage, management, and architecture, Vital Friends reveals what's common to all truly essential friendships: a regular focus on what each person is contributing to the friendship — rather than the all-too-common approach of expecting one person to be everything.

The book includes a unique ID code that provides access to the Vital Friends Assessment and website. This groundbreaking test reveals which friends play each of the eight vital friendship roles in your life.

Tom Rath's fast-paced and inviting storytelling takes a mountain of important research and makes it remarkably accessible and applicable. By the time you finish reading Vital Friends, you'll see your family, friends, coworkers, and significant other in a whole new light.
About the Author
Tom Rath is one of the most influential authors of the last decade. He studies the role of human behavior in health, business and economics. Rath writes and speaks on a range of topics, from well-being to organizational leadership. He has written several international bestsellers, including the #1 New York Times bestseller How Full Is Your Bucket? In 2007, The Economist listed his book StrengthsFinder 2.0 as the top-selling business book worldwide. In total, Rath's books have sold more than 5 million copies, been translated in 16 languages and made over 250 appearances on the Wall Street Journal bestseller list. Rath is a senior scientist and advisor to Gallup, where he previously spent 13 years leading the organization's work on employee engagement, strengths and well-being. He has also served as vice chairman of the VHL cancer research organization.
Praise For Vital Friends: The People You Can't Afford to Live Without…
"A workplace without friends is an enemy."
-The Washington Post
"Friendships are good for business. Companies are coming to discover that, yet are at a loss at what to do about it. . . . what Gallup has uncovered about best friends stands out as novel."
-USA Today
"Let friendship ring. It might look like idle chatter, but when employees find friends at work, they feel connected to their jobs. Having a best friend at work is a strong predictor for being a happy and productive employee."
-TIME magazine